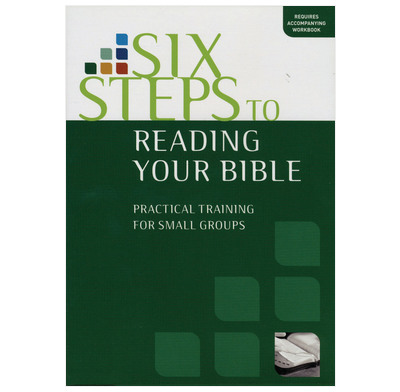 Six Steps to Reading Your Bible DVD
Practical training for small groups
The DVD for the Six Steps To Reading Your Bible course.
Watch outtakes from the DVD!!
'How sweet are your words to my taste,' says the psalmist about the law of God, 'sweeter than honey to my mouth.' Most Christians would like to say Amen, but somehow it doesn't always feel this way.
Reading the Bible often feels like our attempts to have regular exercise - a healthy chore we know we should fit in, but which is hard to manage among everything else, and ends up slipping off the agenda.
Whatever your current Bible reading habits (or lack of them), and whatever your level of knowledge and confidence, Six Steps To Reading Your Bible will help you make progress in getting into your Bible. The course is especially designed for use in small groups, and utilises a mix of video instruction, Bible study, discussion, practical exercises, prayer and assignments.
Six Steps to Reading Your Bible is an ideal course for three groups of people:
1. People who are new to the Christian faith. It will give them a very valuable introduction to the place of the Bible in the Christian life, and a set of basic tools for getting started in reading it.
2. Those who have been Christians a while, but who have never had much training in simple but important Bible study principles.
3. Experienced Bible readers, who will find Six Steps to Reading Your Bible a valuable 'refresher' course, and will gain a healthy new vigour in their personal Bible reading.
Over the six sessions of the course, you will:
- Become familiar with the basic shape and nature of the Bible
- Be motivated to read the Bible for yourself
- Learn how to apply basic reading skills to the Bible
- Learn how to apply a Bible passage to your life
- Understand how the whole message of the Bible hangs together and centers on Jesus
- Benefit from the encouragement and experience of others, as you work together in learning to read the Bible
Contents
1. What is the Bible?
2. Why read the Bible?
3. Reading in faith
4. Reading what's there
5. Reading through Jesus
6. Reading for life
Specification
| | |
| --- | --- |
| Author | Tony Payne, Simon Roberts |
| ISBN | 9781921441141 |
| Format | DVD video (Amaray) |
| First published | August 2008 |
| Dimensions | 135mm x 190mm x 14mm |
| Language | English |
| Publisher | Matthias Media |
Other information
Six steps to reading your bible is a course best undertaken in a small group (of 3-8 people). To run the course you will need:
- this DVD (one per group) which contains talks, role plays and interviews
- a workbook for each person, which also contains notes for leaders
"Good course for the right group"
(Review written for 'Six Steps to Reading Your Bible - Starter Pack')
Useful basic introduction. DVD adds to, rather than distracting from, the study. Would recommend, but do bear in mind it is at the basic level and to get the most out of it requires appropriate preparation by the leader.
"Good course to be running for pretty much any church - would recommend it"
We're in the process of using this across our church's small group. I was somewhat suspicious of this when I first looked at it but after getting through the first week which was a bit too simple for us (designed for those with almost zero prior bible knowledge which isn't where most of our group was) the material over subsequent weeks was much better balanced.

I like the way it pushes one to actual read the bible as homework - encouraging the habit as the course puts it. It's also good at encouraging a healthy approach to treating the books as appropriate literature to be read and understood accordingly and yet encouraging us to realise we are reading God's truth and that we need to be trembling in humility before it. Very helpful and faithful emphases of which we constantly need to be reminded.

Responding to the prior comment on this, I don't think the homework is too challenging - at least not thus far. The homework questions are on par with Daily Reading Bible standard. Straightforward enough for a novice reading the bible for the first time but open enough for those with more experience in such things to dwell on the truths at a deeper level.

In conclusion, a very useful course that fills a gap with something that helps motivate and encourage us to get stuck into God's word whilst giving a novice the tools to do so without being too scared. If they just put something in week one for the more experienced this would be comfortably five stars in my view.
"Proceed with caution"
This dvd-based course provides a useful resource for training individuals and small groups on how to listen carefully to God's voice in the Scriptures. Importantly, for group use, it also requires discerning and godly leaders who will: (i) pray for people; (ii) be able to reinforce the basics, answer questions, overcome objections; and (iii) model good bible handling. Leaders may well consider adapting the study booklet due to a number of perceived weaknesses.

The dvd sessions are quite good on basic bible handling skills but suffer from a few unfortunate distractions and shortcomings. First, there is a lot going on in the background in many scenes, which is both unnecessary and distracting. Secondly, a few of the light-hearted, real-life scenarios create more questions for new believers than they effectively resolve. Lastly, some viewers may be dismayed at the unedifying (singular) use of the word "damn". The adoption of multi-media for bible skills training is to be welcomed, but only with caution. The format lends itself to entertainment over education and this series suffers slightly from a lack of discipline on this front.

Perhaps the greatest weakness with the booklet is that the examples chosen for group work and independent study are very ambitious. Without effective supervision, matched by a flexible use of materials, the exercises could lead to a negative first impression where people are left thinking, "I could never do that!"

Notwithstanding these objections, there is much that is good and I would recommend its careful use.