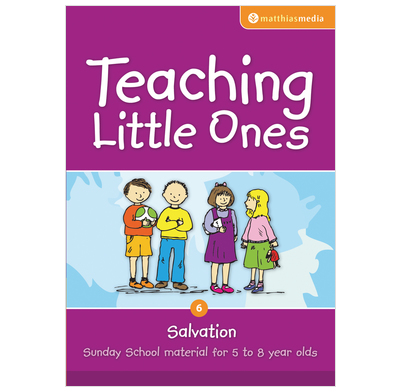 Teaching Little Ones: Salvation
Sunday School material for 5 to 8 year olds
Salvation is the third part of the 5-8 year olds' Teaching Little Ones syllabus on CD-ROM.
This is the third part of a syllabus designed for 5-8 year olds — children in their first few years of school. Children are introduced to the important biblical theme of 'salvation' through key characters (Elijah, Jonah and Paul) and events (the Flood, the Exodus). Children also learn that the message of God's salvation ultimately points to Jesus, the saviour (rescuer) to whom they must personally respond.
The syllabus contains eight lessons which clearly explain the gospel in an accessible way, as well as six lessons on living the Christian life. Salvation is also learnt through special Christmas and Easter lessons.
Extras
Specification
| | |
| --- | --- |
| Age range: | 5 - 8 |
| Author | Stephanie Carmichael |
| ISBN | 9781921068676 |
| Format | DVD video (Amaray) |
| First published | March 2007 |
| Dimensions | 137mm x 192mm x 14mm |
| Language | English |
| Publisher | Matthias Media |
Other information
Teaching Little Ones is a syllabus of Sunday School lessons for children aged 2-8 on CD-ROM. Offering both Biblically sound and age appropriate lessons, on each CD-ROM there's virtually everything you'll need for one year (that's 40 weeks) of lessons — including lesson plans, story scripts, action rhymes, prayers, activities and craft ideas. You won't have to worry about recurring licence fees or buying workbooks — once you have bought this CD, your church can use the lessons year after year. The material is provided in Adobe® PDF format so you can distribute individual lessons to teachers via email, allowing them to prepare in advance and print off only the sheets they need.
"Helpful continuation of the earlier resources"
(Review written for 'Teaching Little Ones: Introducing the Bible')
I bought this to add more lesson outlines to the previous two 'Teaching Little Ones' CDs which I use for a (very) short talk in our Mums and Toddlers group. As some of the children stay with us for around three years I needed new input, especially for the older children. I like the biblical perspective of the material and hope the mums are listening too! However with about 20 craft items to prepare I find some of the activity material takes a long time to prepare, and you do have to have access to a photocopier! My toddlers love doing them and (I'm told) take in the simple and repetitive messages.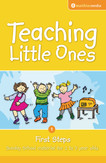 "very helpful"
it has given me the foundation of a years lessons for our mums and tots group, brilliant ideas, lovely drawings!! nice and simple for short attention spans and chatty mums!
"great!"
I'm using this with our children at home once a week and am finding it very well written, lots of good craft ideas relating to the BIble passage. The children are all remembering well the previous weeks story and BIble verse.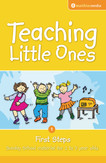 "Brlliant and easy to use"
Brilliant. I use it for my mums and tots group Age 0-3 and they love it . Very simple ,clear to use and all the activity materials are easy to make and adapt if needed.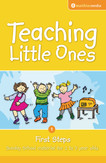 "A great age-appropriate resource for toddlers"
We actually bought this to use at home with our two year old having found that most available material for families is aimed more at 4years and above. We have since begun using it with a toddler group we help with, and so far, so good - it's just about the right level for them and the main teaching doesn't require them to sit still for too long!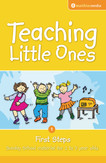 "Fantastic resource"
We have been using this resource for over 2 years now with our 2-4 year old group. It is especially helpful as all the material is ready prepared and aimed directly at the children. The stories and themes are really easy to follow. The craft ideas are easy to follow and there are some very useful tips which help when trying to understand a 3 year old! I love this resource and would (and have) recommend it.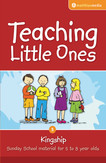 "A comprehensive and thoughtful program for 5 to 8 year olds"
I was seriously impressed with Stephanie Carmichaels program on Kingship. I have not seen any other program that has gone to so much trouble to systematically put together an overview for children of kingship in the bible. Starting with OT kings and heading into the NT meeting Jesus and finishing with his teachings and eternal reign. I would recommend this program to any church seeking to teach their children about Jesus. It just helps make it make sense.
Of Course combine this with her over all package, it is a great way to teach those young ones in your church about who Jesus is.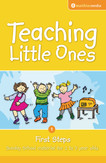 "Excellent! Easy to use and our 2yo's are now getting fed!"
In our church, teaching within the sunday school setting began with turning three. However, many of the two year olds were needing more than just a creche. Teaching Little Ones: First Steps by Stephanie Carmichael has been easy to use, providing simple teaching outlines that build on each other from week to week. All you need for putting a lesson together is there layed out for you, you download the lesson for your week, collate the craft materials, put it all together, pray and it all just comes together perfectly! There's room for your own creative flare to be expressed if you have one and if you don't clear templates are provided so it doesn't matter! And its been wonderful to see the children go home with excitement over how they have spent their time and tell you simply what they have learnt! Loss of 0.5 of a mark is simply that some activities (although there is always a choice) can be advance for a lot of 2 year olds.
"Excellent material, good value for money."
This is thoroughly biblical sunday school material. We are half way through it with our 3-5's group at the moment and are enjoying it lots.

The craft ideas are simple and achievable and the stories appropriate for the age group. It is great to go through the Old Testament with the group and teach them about God's promises (which is what we are up to at the moment!)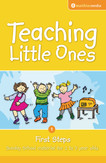 "Helpful but not Christ Centred Enough"
I bought "First Steps" in order to introduce a short Bible story and craft to our church Mums and Tots group. This is a group mainly consisting of non Christian Mums and Child Minders and their children aged 0 - 3.5. We have used one of the older Teaching Little Ones CD ROMs with the 3-5 age group in church and really liked it. I am disappointed by this one. With the exception of Unit 9 which is about Christmas, the rest seems not to mention Jesus at all. I, therefore, don't feel able to use it as a gentle evangelistic tool because many of the Mum's may just think that "God made my hands" (and many other similar topics) is fair enough and could apply to their God too. The fact that there is no Easter session is especially unhelpful considering that this is the central hope of our Faith in Christ.

What is useful about this material is how short a talk Stephanie Carmichael recommends for this age group and how simple the craft input she suggests. I found this extremely helpful as, previously, I had been giving too much information in each talk.

I hope that Stephanie produces another of these CD Roms for this age group, but this time with much more about the Lord Jesus. I think the "Teaching Little One's" format is excellent and I love being able to purchase a whole years worth of teaching and craft material on one CD.