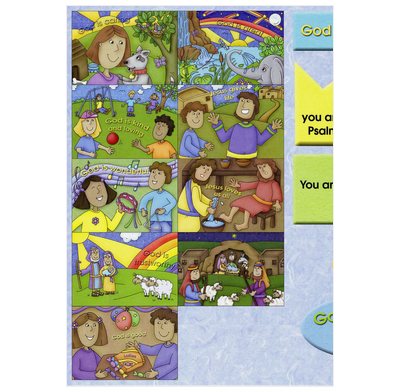 Click Unit 12: 3-5s Child's Component
Easy-to-use, Bible-centered teaching material for 3-5s
The child's component is a 'Children's card poster' which features nine cards and ten cut-outs.
Unit 12 for 3-5s looks at the subject of 'Like Father. Like Son' (From Psalms and John)
The child's component for this unit is a 'Children's card poster' which features nine cards and ten cut-outs. The cards are used in various activities throughout the unit to reinforce the teaching presented in the sessions. In the final session, the children will attach the cards to the Children's crown poster. At the end of the unit the children can take home their posters as a reminder.
This child's component accompanies the Click Unit 12: 3-5s Leader's Manual. There is a Leader's Pack also available.
CLICK is a Bible-based programme for teaching and discipling children from 3-11 years. The CLICK curriculum is based on the belief that the Bible's own theological framework should direct what is taught and how it is taught. CLICK is Bible-based, teaching the major events, concepts and doctrines of the Bible. It's also great fun!
Contents
Like Father, Like Son
1. God is King of the world (Psalm 93)
2. God is caring (Psalm 95 v 1-7a)
3. God is kind and loving (Psalm 103)
4. God is wonderful (Psalm 96)
5. God is trustworthy (Genesis 12 v 1-3; Psalm 105)
6. God is good (Psalm 111)
7. God is great (Psalm 145)
8. Jesus gives life (John 4 v 43-54; 5 v 19-30)
9. Trust Jesus (John 5 v 24-25; 13 v 1-17, 34-35)
10. Jesus: God with us (Matthew 1 v 18-25; John 5 v 20)
Specification
| | |
| --- | --- |
| Age range: | 3 - 5 |
| Contributors | Alison Mitchell |
| Format | Poster |
| First published | April 2008 |
| Dimensions | 213mm x 298mm x 1mm |
| Language | English |
| Pages | 2 |
| Publisher | CEP |
"Great Bible centred resource"
(Review written for 'Click Unit 12: 3-5s Leader's PACK (Manual + Posters + Child's Component)')
This is the second season of our kids work that we are using the Click resources ... Very straightforward and uncomplicated to use among different leaders each week. And photocopy able resources are always very useful!
Keep up the good work Goodbook company
"very good"
this gives you plenty of choice for each lesson . my group are aged 2 to 6 and there is enough scope within each lesson for all of them to enjoy. the repetive nature within each lesson really helps the children to remember what they are being taught.