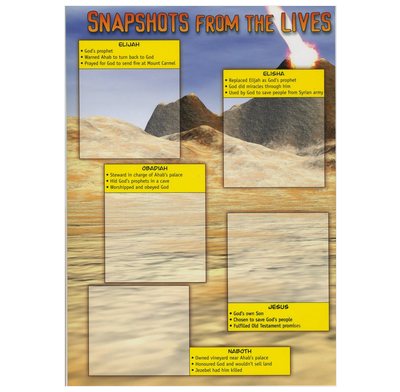 Click Unit 7: 8-11s Child's Component
Easy-to-use, Bible-centered teaching material for 8-11s
The child's component is a 'Snapshot board' which summarises what the children learn in each session.
Unit 7 for 8-11s looks at the subject of 'God speaks through Elijah and Elisha from 1 & 2 Kings'.
The child's component for this unit is a 'Snapshot board' which summarises what the children learn in each session. There are also photocopiable 'Activity cards' that involve the students in the sessions and 'Activity sheets' which provide activities to reinforce concepts taught in each session.
This child's component accompanies the Click Unit 7: 8-11s Leaders Manual. There is also a Leader's Pack available.
CLICK is a Bible-based programme for teaching and discipling children from 3-11 years. The CLICK curriculum is based on the belief that the Bible's own theological framework should direct what is taught and how it is taught. CLICK is Bible-based, teaching the major events, concepts and doctrines of the Bible. It's also great fun!
Contents
God speaks through Elijah and Elisha from 1 & 2 Kings
1. Elijah and Ahab (1 Kings 17 v 1-6)
2. Elijah and the widow (1 Kings 17 v 7-24)
3. Elijah on Mount Carmel (1 Kings 18 v 1-40)
4. Elijah prays for rain (1 Kings 18 v 41 – 19 v 8)
5. God answers Elijah (1 Kings 19 v 9-21)
6. Elijah: Naboth's vineyard (1 Kings 21 v 1-29)
7. Elijah and Jesus (2 Kings 2 v 1-15; Matthew 17)
8. Elisha: widow's oil, feeding 100 (2 Kings 4 v 1-7, 42-44; Matthew 14)
9. Elisha and Naaman (2 Kings 5 v 1-19)
10. Elisha: The Syrians stopped (2 Kings 6 v 1-23)
Specification
| | |
| --- | --- |
| Age range: | 8 - 11 |
| Author | Alison Mitchell |
| Format | Poster |
| First published | March 2007 |
| Dimensions | 210mm x 297mm x 1mm |
| Language | English |
| Pages | 2 |
| Publisher | CEP |
"fantastic"
We've used click for all age groups for two years now and it has transformed our sunday school and we have really seen our kids faith & knowledge grow. I note comments about it being a bit academic and difficult to use with only one or two in the group, but our team have not had any trouble in adjusting where needed (and we vary in experience and training). I wouldn't be worried about recommending this resource to any church. It's fantastic!
"Click in general"
As a Youth and Children's Pastor i give Click to my volunteers as their basis for preparing each session. I am confident that the material is full of biblical content and has enough ideas for crafts/games/etc that at least some will always work in our context.
I do, however, find myself encouraging my volunteers to go beyond what is in the Click book. Although there are some great learning outcomes Click often misses a trick in terms of 'life transformation'. I would love to see Click develop an expectation for what spiritual growth in the children's lives might entail... for example off the top of my head... Not just knowing that God is our Father, but that this means even if your dad is not around any more, or is around but isn't a good dad, you are still loved and you are not abandoned!

Great stuff, but could push the implications of its Bible study a bit further.

I hope this is helpful.

In Christ,

Andy <><
"Very Good"
Plenty of ideas to pick and choose from. More than enough for any lesson.
The Units work well to cover everything you would want any child to know about God.
I only have 2 minor points of concern..
1. Some children are less academic and the activities are for the more able
2. with only one or two in a group you would struggle with some of it.
As a teacher I can adjust, but not all Children's workers have that background to fall back on.
"excellent"
I have used several of the Click units for our weekday youth club for 5-11year olds. Normally I only have the chlld's component that comes with the leaders pack. this time we are using the children's component with the children. The manuals are well produced with plenty of good ideas and helps. The Children's component too is well produced and gives the children and their parents the right message, that God and His word are important. I would have no hesitation in recommending them for a sunday school or a mid week meeting.