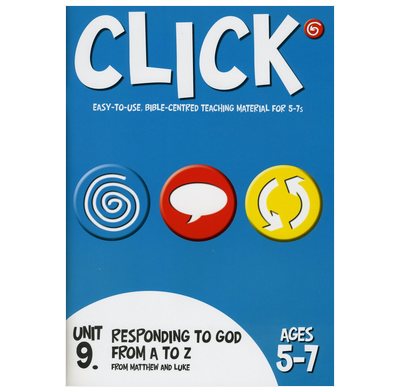 Click Unit 9: 5-7s Leader's Manual
Easy-to-use, Bible-centered teaching material for 5-7s
Unit 9 for 5-7s looks at the subject of 'Responding to God from A to Z from Matthew and Luke'.
Unit 9 for 5-7s looks at the subject of 'Responding to God from A to Z from Matthew and Luke'.
This manual is designed to be used with the specific child's component and posters for this unit. There is also a Leader's Pack available.
CLICK is a Bible-based programme for teaching and discipling children from 3-11 years. The CLICK curriculum is based on the belief that the Bible's own theological framework should direct what is taught and how it is taught. CLICK is Bible-based, teaching the major events, concepts and doctrines of the Bible. It's also great fun!
Each comprehensive Leader's Manual includes:

ten Bible teaching sessions
engaging and purposeful activities, games and crafts
music suggestions
extension ideas for more able children
photocopiable masters for visual aids and activities
Contents
Responding to God from A to Z from Matthew and Luke
1. John gets things ready (Luke 1 v 5-25, 57-64; Malachi 4 v 5-6)
2. Jesus the Saviour (Luke 1 v 26-47, 2 v 1-7; Matthew 1 v 18-25)
3. Jesus the King (Matthew 2 v 1-23)
4. Jesus the Son of God (Matthew 3 v 1-17; Mark 1 v 1-11)
5. Jesus calls the disciples (Mark 1 v 16-20; Luke 5 v 1-11; John 1 v 35-39)
6. The rich young ruler (Luke 18 v 18-25; Matthew 22 v 35-39)
7. Zacchaeus (Luke 19 v 1-10)
8. The parable of the sower (Luke 8 v 4-15)
9. The parable of the banquet (Luke 14 v 15-24)
10. Jesus' death (Isaiah 53; Matthew 27-28; Luke 22-24)
11. On the Emmaus Road (Luke 24 v 13-35)
Free extras
Specification
| | |
| --- | --- |
| Age range: | 5 - 7 |
| Author | Alison Mitchell |
| Format | Saddle stitch |
| First published | September 2007 |
| Dimensions | 210mm x 297mm x 5.3mm |
| Language | English |
| Pages | 96 |
| Publisher | The Good Book Company |
"Good material"
(Review written for 'Click Unit 9: 5-7s Leader's PACK (Manual + Posters + Child's Component)')
I really like material for the younger ages, 5-7's especially. The stories are good and the activities and games are very helpful and simple to use. My main problem with the material is that organization of the 10 lessons are often confusing when they have Christmas and Easter themes. If the first few lessons are Christmas and the last few are Easter and there are 10 lessons...how does that work (Unit 9)? We end up doing a Christmas lesson in February or an Easter lesson at random times of the year. Please organize the books so that they cover a whole calendar year with a one Christmas and Easter lesson. Thanks for all your hard work!
"Makes the life of a Sunday school teacher much easier"
My church has been using the Click books for several years in our year 6 to year 10 Sunday school classes and I can only say good things about this series of books, each of the 10 lessons contained in every book has a vast content and we find that each individual teachers uses the amount of content that they feel comfortable with so we all teach the same Biblical lesson each week but with slightly different content and this makes our supervisors life much easier as he knows exactly what we are teaching our children each and every week if you haven't used it before, please give it a try you won't be disappointed.
"useful tool"
very useful tool, especially for new leaders who are unsure at what level to pitch the story for their age group. each session is faithful to the Bible passage.