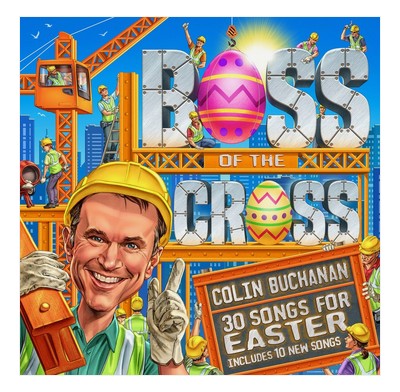 Boss of the Cross CD
Boss Of The Cross is an invitation for the whole family to celebrate the triumph of Jesus' death and resurrection.
After years of requests, Colin Buchanan's first Easter CD is finally here!  
With over 70 minutes of Easter-themed energy and 10 new songs, Boss Of The Cross - DELUXE EDITION, is an invitation for the whole family to celebrate God's unstoppable plan for life and hope and glory achieved in the triumph of Jesus' death and resurrection. 
Everyone with be singing along to new favourites, including Jesus Is The Hero, The Best Thing About Easter and Peace With God At Easter Time.  Boss Of The Cross DELUXE EDITION features 30 cracking Colin songs and memory verses - PLUS a couple of special Aussie Easter musical surprises!
Contents
1. Intro
2. The Best Thing About Easter (Jesus Is Alive!)
3. Jesus Is The Hero
4. Peace with God at Easter Time
5. Jesus Christ Was Raised To Life
6. Boss of the Cross
6. God Our Father #2
7. He Is Risen
8. Super Saviour
9. He Lives!
10. Romans 6:23 "For the wages of sin…"
11. Titus 3:5 "He saved us …"
12. Isaiah 53:6 "We all like sheep…"
13. Out Of Tune With God
14. Survival Man
15. I Can't Save Myself
16. Sinner In The Hands Of A Merciful God
17. He Died Upon The Cross
18. You Can't Keep Him Down (Jesus Is The Son Of Man)
19. Mark 10:45 "For even the S-S-Son of Man…"
20. 1 Timothy 2:5-6 "For There is one God…"
21. Galatians 2:20 "I have been crucified with Christ…"
22. Big Words That End In Shun
23. This Is The Gospel
24. Go Go Go In The Gospel Power
25. Is This the King?
26. We Preach Christ (2015 Remastered)
Plus Bonus Aussie Easter Songs
The Great Big Aussie Easter Egg Hunt
Aussie Easter Oi! Oi! Oi!
The Aussie Easter Hat Parade
The Easter Long Weekend
Specification
| | |
| --- | --- |
| Age range: | 3 - 10 |
| Author | Colin Buchanan |
| ISBN | 9780424955643 |
| Format | CD-Audio |
| First published | October 2015 |
| Dimensions | 142mm x 125mm x 11mm |
| Language | English |
| Publisher | Three Seventeen Trust |
"Excellent!"
A fantastic compilation of some of Colin's best-loved songs mixed with some super duper new ones! All songs are linked in theme to Easter but the CD is a great addition ready to play all year round. Aimed at 3-7 but loved by our boys aged 3, 2 and 0!!