Taste and See: A Reflection for Your Holiday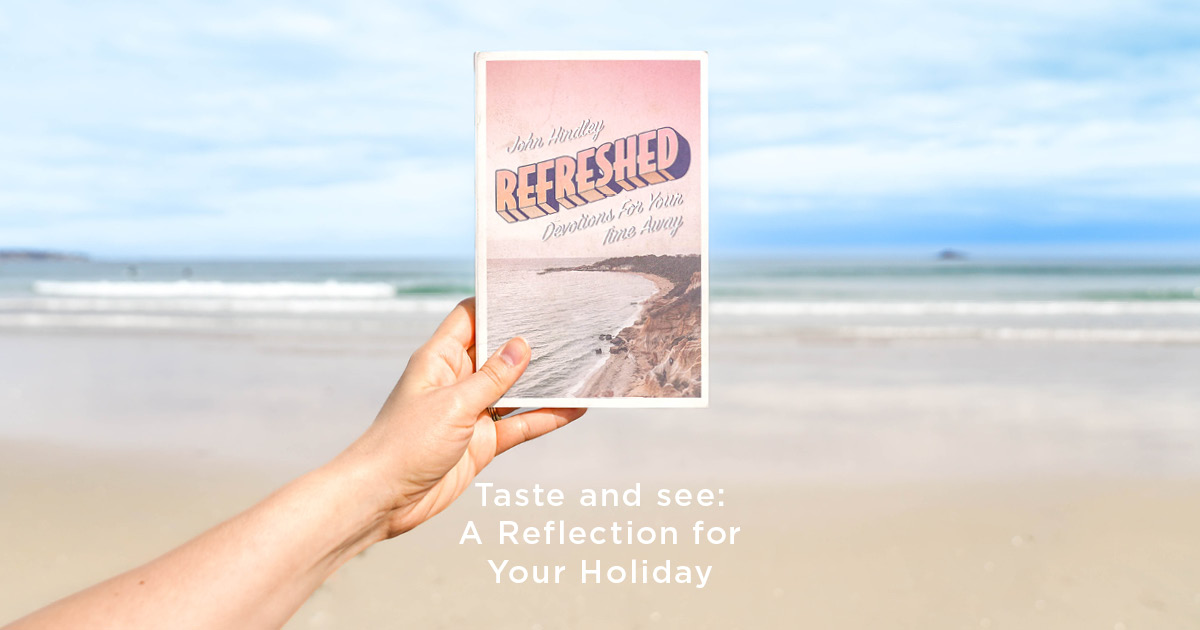 "So they asked [Jesus], 'What sign then will you give that we may see it and believe you? What will you do? Our ancestors ate the manna in the wilderness; as it is written: "He gave them bread from heaven to eat.'
Jesus said to them, 'Very truly I tell you, it is not Moses who has given you the bread from heaven, but it is my Father who gives you the true bread from heaven. For the bread of God is the bread that comes down from heaven and gives life to the world.'
'Sir,' they said, 'always give us this bread.'
Then Jesus declared, 'I am the bread of life. Whoever comes to me will never go hungry, and whoever believes in me will never be thirsty.'"
- John 6:30-35
He is good like cherries are good
Most of us love to eat. Away from home we explore different foods, take more time over meals and treat ourselves. In our family, we have various traditions around food on trips away—taking it in turns to cook, going out for breakfast and several others. Personally, I love ice cream, especially on a beach, in a cheap cone with a chocolate flake. To me that's the taste of sun, freedom and childhood.
In Psalm 34:8 David, the king and poet, invites us to "Taste and see that the Lord is good". To some of us, that will be a surprise. We know God is good in a distant, stiff way. He is good in a way that means he is tutting at our sin and watching us like a hawk. Here we are shown his goodness in a totally different way. He is good like cherries are good.
A few years ago we visited France. The village where we were staying had a festival to celebrate the cherry harvest. We followed the crowd to a meadow and bought an enormous bag of fat, juicy cherries, then settled down in the sun to eat them while we listened to local bands. But our girls were dubious—they'd never tried cherries before. Soon, however, we were back at the stall buying another bag.
Ever since, when faced with new foods, we have told our girls to remember the cherries! (Sadly this has not worked with parsnips yet.) Maybe you have forgotten how satisfying, how sweet, how rich Jesus is. The Lord gave us cherries so we would taste and see that he is certainly no less sweet than the fruit he gave us.
Jesus is a famine-relief fest
Jesus is the bread of life. He says this in reference to the time when God's people were fleeing slavery in Egypt. They had to cross the wilderness on their way to the promised land, and every day as they traveled God gave them manna—bread from heaven. They would have starved without it. It was life to them. It was also sweet and delicious, "like wafers made with honey" (Exodus 16:31).
Jesus is our spiritual food. He is life to us. Without him we are dead in our trespasses and sin. Without him we will starve in the wilderness. Yet that does not make him starvation rations. Jesus is not famine-relief food, a nutritious but bland pulp that we receive gratefully as life to us. No, Jesus is a famine-relief feast! He is like wafers made with honey; he is cherries and ice cream with a chocolate flake. He is the sort of God who gives us delicious food so that we can enjoy him more.
He is the God who died our death, took our place, our sin, our guilt and our shame on a cross, and then commanded us to feast at the Lord's Supper to remember this. We do not swallow gruel and water to survive by the death of Christ. No, we feast on bread and wine to live abundantly by the sweetness of our Lord. Not every meal is the Lord's Supper, but every meal is a taste of Christ's kindness and a foretaste of the feast he is preparing for us when he returns.
For today
Buy an ice cream, a bag of cherries, or an equivalent. Cook your favourite meal or try that strange-looking cake you've seen people eating in cafés. As you enjoy it, give thanks that we have the sort of God who fills this world with good things. Reflect on ways you have tasted Christ's goodness, his sweetness, over the last year and the last few days.
For the family
Ask:
1. What is your favourite food? What has been our favourite food this trip?
2. Do you think Jesus likes food? Can you think of any meals that he made or ate? What do you think it will be like when we eat the feast with him when he returns?
Make:
This is a day to enjoy a delicious feast. Talk about who will make each dish and how you will decorate the table (if you're cooking yourselves), and how you will make sure that Jesus and his sweet love is part of your feast. You could try writing a special thank-you prayer to God, sometimes called a "grace", to say together. Then enjoy it!

This is an extract from Refreshed by John Hindley, a book of 30 devotions designed to help you to rest in the Lord's goodness and glory during your time away so that you can return home feeling refreshed spiritually as well as physically.