Gospel Patrons: People whose generosity changed the world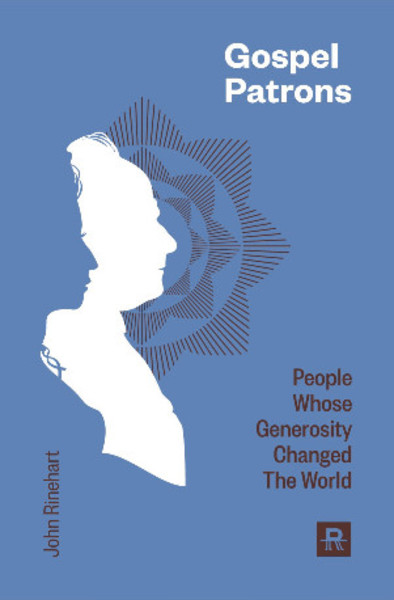 You may well have heard of William Tyndale, the man who translated the Bible into English in the 16th century, losing his life in the process. But standing behind him, largely unknown, was Henry Monmouth. This was a man who shared Tyndale's vision, partnered with him and, to put it bluntly, paid the bills. Monmouth put Tyndale up while he worked on his translation, and then used his business connections to smuggle the English Bible around the country. Monmouth is an example of what John Rinehart calls a "Gospel Patron".
Gospel Patrons are men and women who do not take centre stage of the gospel story, but who play a vital role nonetheless. Rinehart's book of the same name takes a look at how God has used such people to change the world, and how we can become those kinds of people too.
In Gospel Patrons, Rinehart retells the stories of three Christians from history and the relationship they had with their patrons. Although carefully researched, this is not dry history; Rinehart stitches together a compelling narrative and fills in the gaps by imagining dialogue (a bit like the best missionary biographies you might have loved as a child). In the final chapters, Rinehart fixes our eyes on the gospel that's worth giving everything up for, before sketching what Gospel Patrons might look like in the twenty-first century. We learn that it's not just about money—gospel patronage is relational, and an important part of it is coming alongside the recipient and encouraging them in their work.
We read in the Bible that we all "have different gifts, according to the grace given to each of us … if it is giving, then give generously" (Romans 12:6,8). When this verse comes up, it's often met with a raised eyebrow and a dry chuckle. But Gospel Patrons is an exciting book that encourages those who have that gift to embrace it and use it well. It would therefore be an ideal book for church leaders to give to particular members of their congregation, or for charities to give to key donors. This book won't brow-beat them into thinking "I must give more", but it will, by God's grace, inspire them to play their part in the Great Commission more wholeheartedly.
Be warned! Rinehart has a challenge for all of us, regardless of our bank balance: whether we are rich or poor, God calls us to invest boldly in his kingdom. And Gospel Patrons makes that sound as exciting as it should be.
Gospel Patrons is a distinguished looking hard back and is available on the GBC website for £10.00 a copy (normal price £12.99).