Book review: A Foot in Two Worlds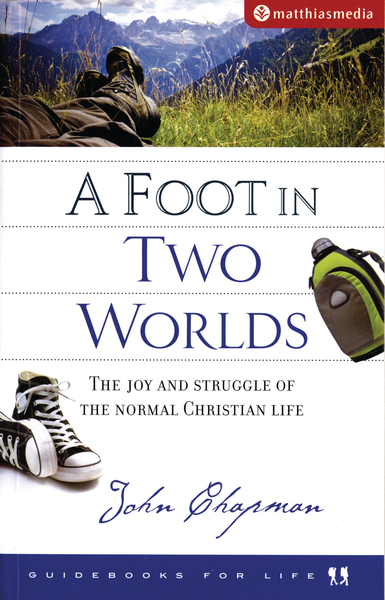 The Christian life is hard. I'm sure you will have noticed! We are saved from sin and heading for eternal bliss but at this moment in time we're far from perfect and still rubbing shoulders with messed up people in a messed up place. We live in tension. The tension that comes from having a foot in two worlds - the present age and the age to come. And every day brings a struggle of some description.
Of course, we don't like that tension. Most of us would prefer it to disappear. Sometimes we try to make it disappear either by compromising our faith to make life easier or by believing the misinformation that some teachers spout - that we can have wealth, ease, almost complete victory over sickness and temptation in the here and now. If only!
John Chapman's book is to the point. It's real about what life is like. It helps us to gain perspective on this daily tension. It teaches what the Bible says about life between Jesus' first coming and his second. And it spurs us on to live faithfully, in the power of the Spirit, gradually becoming more like Jesus while in the thick of the mess that characterises our world and our hearts. And it does all that in about 75 pages.
As with all books penned by Chapman, it's accessible, engaging, biblical and practical. There are moments which will make you smile and moments that will convict your heart. It's packed with examples from his personal experience which brings great warmth to the writing. But its real strength lies in its simplicity. It's perfect to read in one sitting (though if you want to move more slowly and use the discussion guide at the back, that's fine too). And it simply spurs you to keep persevering in the present and keep rejoicing in the future. No compromise. No false hope. Just a clear call to fix your eyes on the wonder of Jesus and keep putting one foot in front of the other. And, quite frankly, that's message we all need to hear from time to time.
Want to buy a copy of A Foot In Two Worlds? Click HERE.