Woman of God
8 interactive Bible studies for small groups and individuals
Terry Blowes takes us on a journey to discover what it means to be a woman who loves and serves God.
What does it mean to be a woman? What does it mean to be a woman who loves God and wants to serve Him?
Amid all the questions, frustrations and controversies that women battle with today, these are the key questions. In Woman of God, Terry Blowes takes us on an exciting journey through the Bible to find the answers. She writes:
'In preparing these studies I wanted to help the Christian woman clarify her identity, based on her relationship with God, and as a result of this, be able to develop her values and priorities with a greater sense of confidence and security.
'It is impossible to respond to all of the questions and difficulties that being a woman today poses. But if a woman has a clear idea of her identity, her priorities and what is of greatest importance, she can make her life decisions more easily and with greater success.'
Contents
Introduction
How to make the most of these studies
1. The Lord, my Creator
2. The Lord, my Saviour
3. The Lord, my Father
4. The Lord, my Comforter
5. The Lord, my Husband (part 1)
6. The Lord, my Husband (part 2)
7. Part of the Lord's body
8. The Lord, my King
Extras
Specification
| | |
| --- | --- |
| Author | Terry Blowes |
| ISBN | 9781921441240 |
| Format | Saddle stitch |
| First published | 2004 |
| Dimensions | 157mm x 225mm x 4mm |
| Language | English |
| Pages | 72 |
| No. of studies | 8 |
| Publisher | Matthias Media |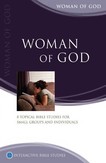 "easy to use and challenging"
Inspired very good discussion and path of discovery for our group of women from different nationalities. Each chapter took about 2-3 sessions.
One negative point - we felt that there were too many readings per topic, fine as background but caused too much distraction and page-turning.