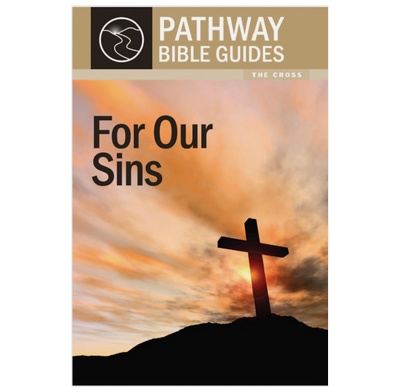 The Cross: For Our Sins
Pathway Bible Guide
8 topical studies looking at the Bible's teaching on the death of Jesus.
Death, it seems, is always tragic. It mars everything in our world. Yet for Christians, the death of Jesus is remembered not as a disaster, nor as a tragic waste, but as the central event of their faith—indeed, as the central event in all history.
In this set of foundational studies, Matthew Jensen leads us on a compelling step-by-step tour of the Bible's teaching on this most
important subject. You'll discover why Jesus' death is not a tragedy but an historical event of unparalleled importance.
Contents
Before you begin
1. Jesus' death in Mark
2. Jesus the Passover Lamb
3. Jesus' death redeems from sin
4. Jesus' death atones for sin
5. Jesus' death justifies before God
6. Jesus' death brings reconciliation with God
7. Jesus' death makes us children of God
8. Jesus' death: The model for Christian living
For the leader
Specification
| | |
| --- | --- |
| Author | Matthew Jensen |
| ISBN | 9781922206466 |
| Format | Saddle stitch |
| First published | March 2014 |
| Dimensions | 145mm x 215mm x 5mm |
| Print size | 10pt |
| Language | English |
| Pages | 64 |
| No. of studies | 8 |
| Publisher | Matthias Media |
Other information
About Pathway Bible Guides
Seeing Things God's Way is part of this new series of Pathway Bible Guides. They aim to provide simple, straightforward Bible study material for:

Christians who are new to studying the Bible (perhaps because they've been recently converted or because they have joined a Bible study group for the first time);
Christians with lower literacy levels who find other studies (such as the Good Book Guides or Interactive Bible Studies) too much of a stretch.
Accordingly, the studies are designed to be short, straightforward and easy to use, with an uncomplicated vocabulary. At the same time, the writers have tried to do justice to the passages being studied and to model good Bible-reading principles. They have tried to be simple without being simplistic; no-nonsense without being no-content.
The questions and answers assume a small group context but can easily be adapted to suit different situations, such as individual study and one to one.
"A really useful guide"
This guide deals with some of the fundamentals of the trial and death of Jesus, breaking it down into simple chunks. This guide also contains very helpful Leader notes.