Bible Delight
Heartbeat of the Word of God: Psalm 119 for the Bible teacher and Bible hearer
Stimulate delight in teachers and hearers of God's Word as you work through Psalm 119.
Christopher Ash's book, Bible Delight: heartbeat of the Word of God is an excellent foundation for the series. It gets us to the heart of our motivation to read, preach and teach. In his own words, 'we preach out of Bible Delight in our own hearts and for Bible delight in our hearers' souls.' Christopher's Bible material is Psalm 119 - the great psalm of Bible delight.
The introductory chapter focuses our minds on the essence of Bible delight. The 'meat' of the book then works systematically through the text of Psalm 119, taking each of the twenty-two sections in turn. Additional material ('getting our bearings in Psalm 119') is included in the chapters dealing with the first two sections. Personal response questions are included at the end of each chapter.
While the primary purpose of the book is to stimulate Bible delight in teachers and hearers of God's Word, the book would be an ideal guide to tackling a preaching or teaching series on Psalm 119.
Contents
Dedication
Series Preface
Acknowledgements
Introduction: The Essence of Bible Delight
1. Getting our Bearings in Psalm 119: Why do we find the psalm so hard to sing?
2. Getting our Bearings in Psalm 119: Remember the music of grace!
3. Pressure and Promise
4. The Word of Freedom
5. The Word of Life
6. The Wide Word
7. Comfort and Songs in the Night
8. The Sufficiency of Covenant Love
9. The Adversity Gospel
10. Affliction and Fellowship
11. Waiting in Urgent Hope
12. The Word and the World
13. Wisdom without Limit
14. A Godly Determination
15. Loyalty and the Judgment
16. The Longings of Loyalty
17. Grace and Loyal Grief
18. The Loyal Love of Goodness
19. Prayer and the Promises
20. The Trustworthy Word
21. The Future Brought into the Present
22. Unresolves Tension Dependent on Grace
Conclusion: Bible Delight
Note about Commentaries
Extras
Specification
| | |
| --- | --- |
| Author | Christopher Ash |
| ISBN | 9781845503604 |
| Format | Paperback |
| First published | 2008 |
| Dimensions | 125mm x 198mm x 12mm |
| Language | English |
| Pages | 206 |
| Publisher | Christian Focus |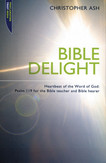 "Excellent for group or personal study"
I chose this book for study together in our Men's Breakfast group. We are all finding it is deepening our appreciation of Psalm 119 and increasing our love for the Lord and His word.
It is well written with good discussion questions for most chapters.I am also finding it very helpful in my own private devotions.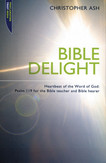 "Excellent for helping you delight in God's word"
Really easy to read, with each chapter lasting only a few pages with 2 questions at the end to make you think a bit more.
If you want to deepen your love for God and learn to delight more in the Bible, rather than seeing it as something you have to read and tick off your to-do list, then read this book!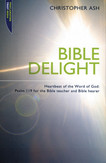 "Got me singing along!"
Chris Ash's purpose in writing this book on Psalm 119 is to help bring us to that point where we can 'sing' to the great and wonderful Psalm. He has definitely done a good job!

This book has been great for me to use in a devotional style, with the short chapters on each of the 22 stanza bringing out a clear theme and application.

This book is highly recommended for those who seek to increase their delight in reading and teaching the Word of God.