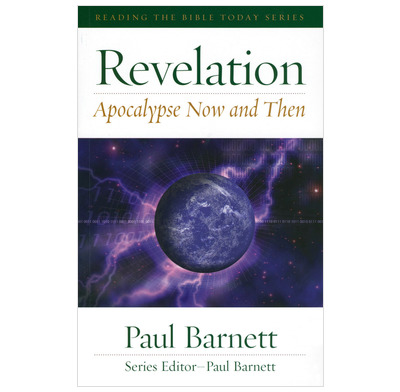 Apocalypse now & then: Reading Revelation today
Readable, practical and accessible commentary on the book of Revelation.
The Reading the Bible Today series of non-technical commentaries is devoted to presenting careful scholarship in a way that everyone can understand and enjoy. It will guide Bible study leaders and provide easily accessible reference material for preachers. Study questions make it ideal for personal or group use.
No longer should readers feel intimidated by the Book of Revelation. This easy-to-read commentary helps Christians gain real and lasting insights into this much neglected New Testament book.
"Revelation is a complex piece of writing that has mystified many, and it
is no small achievement to write a simple commentary on it that dispels the fog. Dr Barnett, however, has done just this. Drawing on what is now known about apocalyptic style and first-century history, he makes good sense of everything, and so opens up the book for fruitful lay study. Most useful - and highly recommended!"
- J I Packer, Regent College, Vancouver.
Dr Paul Barnett combines practical ministry with Biblical scholarship. He is an international lecturer in New Testament studies, and has authored numerous books. He has pastored two parishes, and served as chaplain at both the University of Sydney and Macquarie University. Paul Barnett was, until 2001, Anglican Bishop of North Sydney, Australia.
Part of The Good Book Company's Commentary List, this commentary has been selected because it not only deals faithfully and carefully with God's Word but is readable, practical and accessible as well.
Contents
READING REVELATION TODAY I
1. Who should read this book?
2. The problem
3. Four keys to Revelation
4. The gospel in Revelation
5. If Christ has conquered, why is there evil?
6. Sharing Christ's conquest
7. Three problems facing John's readers
8. Who was John?
9. Other interpretations
READING REVELATION TODAY II
10. Patmos / Chapter 1
11. The Seven Churches of Asia / Chapters 2-3
12. Heaven opened / Chapters 4-5
13. Tyranny / Chapters 6-7
14. Chaos / Chapters 8-11
15. Persecution / Chapters 12-14
16. Destruction / Chapters 15-16
17. The end of evil / Chapters 17-20
18. New Jerusalem / Chapters 21-22
Specification
| | |
| --- | --- |
| Author | Paul Barnett |
| ISBN | 9781875861415 |
| Format | Paperback |
| First published | January 2004 |
| Dimensions | 138mm x 215mm x 10mm |
| Language | English |
| Pages | 170 |
| Publisher | Aquila Press |
"Fabulous!"
A clear and concise guide to the book of Revelation with a clear structure and helpful study notes. A useful starting point for anyone who has never studied Revelation before and a help recap for those who have. Paul Barnett writes with clarity, winsomeness and shows his pastoral heart.
"Very helpful over-view and commentary"
Revelation - Apocalypse Now and Then by Paul Barnett (former Bishop of North Sydney).
I have found this to be an excellent introduction and commentary on the Revelation. The first section (ten short chapters) is a general introduction to The Revelation and well worth reading before venturing onto the commentary. The second part of the book is a chapter-by-chapter commentary, each chapter followed by 'questions for study, discussion and prayer.'
This makes it a very valuable resource for small group discussion, and for stimulating personal review and deepened understanding. We have used it in our own church's small group, where we have centred on discovering what the Bible says to Christians today. I highly recommend Paul Barnett's superb work.
"Makes life easy!"
I was asked to lead a series of studies on Revelation and was more than a little daunted. I bought two commentaries (both very useful), but then came across this book. It has made my life so much easier! It is a brilliant, concise, easy to read explanation of Revelation-well, as easy as it's possible to be. I have found the "for study, discussion and prayer" section at the end of each chapter very helpful.

The first 10 chapters are a general introduction and background to Revelation, and the following chapters break the book up into manageable chunks. I am finding the historical, geographical and cultural background really interesting as it all makes sense of the text.

I would be happy to recommend this book to anyone wanting to read Revelation with understanding.
"Just brilliant if you want to understand this letter"
Revelation is a closed book to so many Christians today. Having this book alongside your reading opens it up for us all to understand. We can not fail to have a much bigger understanding of God's master plan for his world after reading this. It just gives us the keys to unlock the vision and it reveals what God wants to tell us through John about himself. What an awesome God we serve! Helped me understand our God in a whole new way and made me even more sure of his plan for me when I leave this earth - bring it on.
"Wise, concise and useful"
Probably no Biblical book has had more written about it than Revelation and so much of the material provides a happy-hunting-ground for those who are excited by the speculative, bizarre and downright silly. Paul Barnett gives us a brilliant introduction to the Apocalypse all the while holding in tension that whilst belonging to that particular genre of Scripture it was intended for real, everyday Christians who were facing persecution. It teasing out what the book meant for them he gyides us to what it has to say to Christians almost 2000 years later. This is the only book I would place in the hands of a Christian who wanted a starting place to explore this mysterious and encouraging document.
"An accessible and helpful commentary from an a-millennial standpoint"
The brief introductory sections in the first part giving background were excellent. The section covering the structure of Revelation was particularly helpful which explained the quadruple pattern of 7 things, with a double interlude before the last item.

Good explanation of the imagery and reasons for it, with a helpful appendix.

The main commnetary moves at a good pace, keeping the big picture clear and avoiding getting bogged down in detail.

Perhaps this short volume is not the place but it would be good to hear more from this author why he prefers an a-mill view over some pre-mill positions on key, difficult passages re tribulation and millenium timeframes.

Some brief reference to other bible passages would have been instructional, showing similarities and differences.

There was throughout a strong, clear emphasis that the real battle was a spiritual one, won at Calvary.
"A short, insightful and to my mind accurate mini-commentary"
Barnett takes takes the view that Revelation teaches in apocalyptic language broad theological themes but especially the centrality of the gospel. In the first 10 chapters he gives the principles which should govern interpretation as well as necessary background. The rest of the book is taken up with an explanation of each vision. Revelation teaches that human history (=the 1000 years) is characterised by TYRANNY (7 seals), CHAOS (7 trumpets), PERSECUTION (7 signs) and DESTRUCTION (7 bowls). He sees the victory of God as already won in the cross and resurrection of Jesus. Although it is a short commentary it will give most readers new insights and memorable quotes eg on 5:10 -they will reign on the earth- "(Christians) ...reign in the way Christ 'reigned' during the crucifixion. It is a reign of courage, of love, of truth and of hope; ... The person possessed of these qualities, though poor and powerless, has the dignity of Christ the king." To this reader anyway this was a new insight.