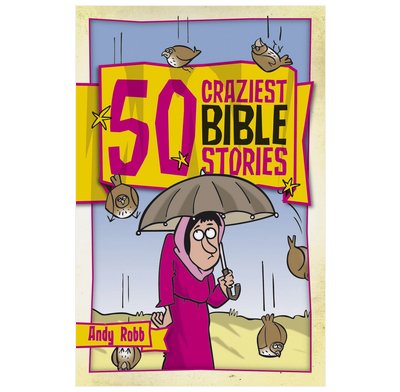 50 Craziest Bible Stories
(50 Bible Stories)
Bible stories brought to life in an entertaining way for primary-school-age children.
Dry bones coming back to life, angels rescuing prisoners, water turning to wine, brides being swapped on the wedding day, a talking donkey – how many more crazy things happened in the Bible?!
Here you'll find 50 that top the crazy chart!
The Bible's not an easy book to understand if you don't know where to start.
That's why Andy Robb has picked out some of the most exciting and well-known stories for you and retold them in his own wacky way – which certainly won't leave you bored!
Inside you'll find the stories of Jonah and the big fish, Elijah and the prophets of Baal, Balaam and the donkey, the feeding of the 5,000, Jesus' resurrection and the beggar at the Beautiful Gate.
Andy leaves each story on a cliffhanger, and you get to look up one or two Bible verses to find out the ending.
There are also some zany cartoons that really bring the stories to life!
Specification
| | |
| --- | --- |
| Age range: | 7 - 11 |
| Contributors | Andy Robb |
| ISBN | 9781853454905 |
| Format | Paperback |
| First published | November 2017 |
| Dimensions | 129mm x 197mm x 7mm |
| Language | English |
| Pages | 112 |
| Publisher | CWR |
50 Craziest Bible Stories
Church Times, 12 June 2009
Andy Robb brings to life bite-sized Bible stories aimed to make the Bible less daunting for primary-school-age children.
"These vibrant and down-to-earth books provide entertaining ... encouragement to discover an interest in scripture.