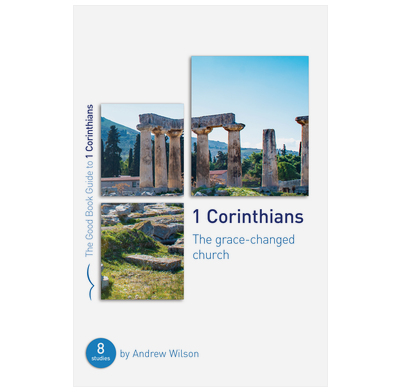 1 Corinthians: The Grace-changed Church
Eight Studies for Groups or Individuals
Eight studies for small groups in 1 Corinthians, exploring how grace looks in the heart of every Christian and how it can shape every church.
Part of the Good Book Guides series.
Andrew Wilson guides groups through the book of 1 Corinthians, showing how Paul's encouragements and challenges to that church are to shape us as Christians today, both individually and as members of a local church.
Features close attention to the text, a focus on real-life application, and questions that really open up discussion, plus a comprehensive guide for leaders in the back.
Accompanying expository guide available to help you lead small groups.
Contents
Why Study 1 Corinthians?
1. Saved and Spirit-filled (1:1-2:16)
2. Building Wisely (3:1-4:21)
3. Grace for Problems (5:1-7:40)
4. Eating Well (8:1-11:1)
5. Head Coverings and Meal Gatherings (11:2-34)
6. Gifts and Love (12:1-14:40)
7. But Christ Has Indeed Been Raised (15:1-49)
8. The Victory and the People of God (15:50-16:24)
Leader's Guide
Specification
| | |
| --- | --- |
| Author | Andrew Wilson |
| ISBN | 9781784986254 |
| Format | Paperback |
| First published | August 2021 |
| Dimensions | 140mm x 210mm x 6mm |
| Language | English |
| Pages | 96 |
| No. of studies | 8 |
| Publisher | The Good Book Company |