Messages that Move
How to give Bible talks that challenge and inspire
A practical guide to the art of preparing and delivering Bible talks.
A practical guide to the art of preparing and delivering Bible talks. Seasoned preacher Tim Hawkins urges us to give 'Messages That Move' which take people on a journey to a worthwhile destination. Learn how to plan and prepare a talk and lead to genuine transformation through the gospel.
'Messages that Move' gives you tools to deliver memorable, engaging Bible talks that lead to gospel transformation. It will give you practical help to prevent sermons being "boring" and a wealth of tips and tools for better preparation, illustration, story telling and delivery
Contents
Section A – The Journey
Section B – The Book
Section C – The Hook
Section D – The Look
Section E – The Took
Section F – Making The Journey Great
Specification
| | |
| --- | --- |
| Author | Tim Hawkins |
| ISBN | 9781908762375 |
| Format | Paperback |
| Dimensions | 128mm x 198mm |
| Pages | 240 |
| Publisher | The Good Book Company |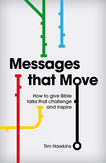 "A message that moves!"
An accessible read for anyone who prepares talks for ministry purposes. The style of the book may not be to everyone's taste but the message is inspiring and the clever way the book is put together is a model for the methods that Tim Hawkins suggests. My talks for children's groups have been transformed after reading this book: got me even more excited about plunging deep into a passage to bring out what God wants to come out of the Bible passage, and to experiment with different ways of presenting. I bought an extra copy of this book, having picked up my first copy at a Christian conference, in order to give to someone else.