Messages that Move
How to give Bible talks that challenge and inspire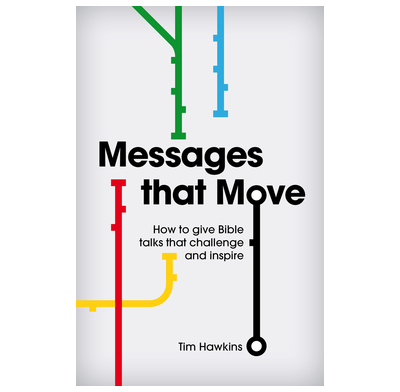 Share:
A practical guide to the art of preparing and delivering Bible talks.
Description
A practical guide to the art of preparing and delivering Bible talks. Seasoned preacher Tim Hawkins urges us to give 'Messages That Move' which take people on a journey to a worthwhile destination. Learn how to plan and prepare a talk and lead to genuine transformation through the gospel.
'Messages that Move' gives you tools to deliver memorable, engaging Bible talks that lead to gospel transformation. It will give you practical help to prevent sermons being "boring" and a wealth of tips and tools for better preparation, illustration, story telling and delivery
Other information
Messages that Move. There are plenty of these in Christian ministry - they move eyelids over eyes! But if you want to communicate Christian truth in a way that changes lives, then get this book. Every apprentice scheme and ministry-training programme should have Messages that Move on its book list. But more than that... Regular preachers, experienced pastors, theology graduates - you may think you don't need it: YOU DO! Here is the backbone that we all need to build engaging, relevant and moving Bible talks. Don't despise the simplicity of this book - it can be read in a day, but it will MOVE YOU... to make your Bible talks what you long them to be: Messages that Move.
- Pete Woodcock, Pastor of Cornerstone Church, Kingston Upon Thames, UK
So practical and earthed with pastoral substance and Biblical clarity. I can't commend it strongly enough for both new and experienced Bible teachers. I wish this book had been around 30 years ago when I started preaching – and no doubt so do my listeners! I can`t commend it strongly enough
- Trevor Archer, Director of Training, Fellowship of Independent Evangelical Churches (FIEC)
This is a great book that will help all aspiring Bible communicators. Give it to your youth workers. Use it in your preaching classes. Well laid out and thought through, faithful to Scripture and contemporary in application. Establish good preaching skills by starting with this book.
- Andy Paterson, Director of Mission, Fellowship of Independent Evangelical Churches (FIEC)
It really doesn't matter what kind of preacher you are - new or old; regular or occasional; confident or needing affirmation - there's something for you here. In this delightfully practical book you'll find down to earth wisdom, helpful encouragement and biblical exhortation. Read it and buy a copy for a fellow preacher.
- Adrian Reynolds, Director of Ministry, Proclamation Trust
In this fine book, Tim Hawkins draws on thirty five years experience of preaching and speaking to teenagers. The overarching train journey metaphor is a simple framework for training new preachers to speak effectively, engagingly, faithfully teaching God's word, while anticipating the likely objections and questions in the minds of those listening. He makes brilliant suggestions to help new preachers think about being heard, establishing an emotional connection with an audience, and why that matters. He is consistently excellent on illustration, notes, handling humour, and telling stories well. I will certainly use this book to train younger preachers.
- Jonny Juckes, Pastor and Trainer
I wish I'd read this book when I started preaching 25 years ago. It provides the reader with an extremely helpful methodology, with which to go about the overwhelming task of teaching the Bible to real people.
- Rico Tice, Evangelist and founder of Christianity Explored
Table of contents
Section A – The Journey
Section B – The Book
Section C – The Hook
Section D – The Look
Section E – The Took
Section F – Making The Journey Great
Additional Information
| | |
| --- | --- |
| Author | Tim Hawkins |
| ISBN | 9781908762375 |
| Format | Paperback |
| Dimensions | 128mm x 198mm |
| Pages | 240 |
| Publisher | The Good Book Company |
Customer Reviews
A message that moves!
An accessible read for anyone who prepares talks for ministry purposes. The style of the book may not be to everyone's taste but the message is inspiring and the clever way the book is put together is a model for the methods that Tim Hawkins suggests. My talks for children's groups have been transformed after reading this book: got me even more excited about plunging deep into a passage to bring out what God wants to come out of the Bible passage, and to experiment with different ways of presenting. I bought an extra copy of this book, having picked up my first copy at a Christian conference, in order to give to someone else.