Christianity Explored Sample Pack
One life. What's it all about?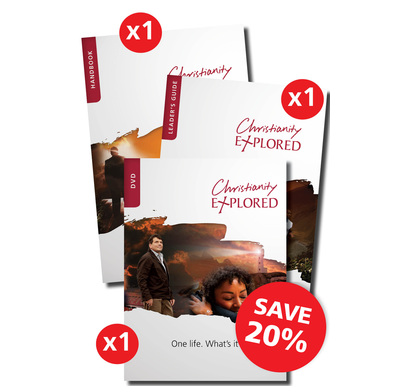 Share:
Everything you need to evaluate the Christianity Explored course.
Description
Christianity Explored gives you time and space to think about the big questions of life and to explore the life of the man at the heart of the Christian faith, Jesus Christ.
Christianity Explored is ideal as a way of introducing people to Jesus, or as a refresher course for your home group or entire congregation. By focusing on Mark's Gospel, it allows people to explore the person at the heart of the Christian faith - Jesus Christ.
The sample pack has been created to help you assess the course. It contains one DVD, one Leader's Guide and a Handbook.
Table of contents
1. Good news
2. Identity
3. Sin
4. The Cross
5. Resurrection
6. Grace
Day Away part 1: The Sower
Day Away part 2: James and John
Day Away part 3: Herod
7. Come and Die
Additional Information
| | |
| --- | --- |
| Author | Christianity Explored |
| ISBN | 9781907377952 |
| Format | Mixed media product |
| Dimensions | 152mm x 229mm |
| Publisher | The Good Book Company/CE |
Customer Reviews
Teaching takes precedence over preaching.
(Review written for 'Christianity Explored - Handbook')
The two people I am working with love it.
This course, like Alpha, has moved very firmly from preaching to teaching.
What about developing it from evangelism to fostering a deeper understanding of the gospel for Christians a little further on? I have used the topic headings in the followup readings to try to create a greater intimacy with the text and have found that it allows the grasp of the gospel to widen appreciably. The next stage would be to deepen it. Many if not most Christians do not know a gospel from start to finish, Christianity Explored makes a great contribution to changing that status quo. The real success is the realisation that teaching has a far greater impact than preaching in the longer term. But, yes, we need them both.
Good Value Reliable Service
(Review written for 'Christianity Explored - Handbook')
We have placed several orders with thegoodbook company and they have been reliable and helpful at all times. Even when our backorder was delayed in the post they were willing to send us another package.
ideal for all who are searching ar need to refresh their faith.
(Review written for 'Christianity Explored - Handbook')
I was told about Christianity Explored by a friend. Since becoming a Lay Reader and with no Minister at the moment, I decided to do the course to keep our parishioners fed with the love of God. There are a few non churched amongst us and all have been very uplifted and encouraged by the way the course is run. The speaker on the DVD, Rico Tice has an easy to listen to voice and the handbooks are so helpful. I certainly recommend this course for whether it is for those seeking to know about the Jesus, and for those whose faith needs renewing.
Excellent
The materials purchased seem to be what I require although I may need to purchase again. I hope to run a course using the materials in the Autumn.
Excellent
Staff were courteous and helpful by providing information and working out an arrangement appropriate to my requirements.

Goods arrived in good time. Since then I have had to return some unused items, and here again arrangements were fair and appropriate.

Overall verdict: excellent. Thank you!
Excellent Resource!
Well worth getting, even if you're not sure about the course...it's a good taster!

Keep the price low :o)
CE course Pack
Brilliant Material, looking forward to using it.
Quite good
Good -booklet & DVD-will use in future but very dissapointed NIV used & not AV
Excellent
We're using the DVD with modified questions in our evening service (30-ish people). The DVD is good quality and we've found it a great way to go through the basics with our congregation. The support material is useful for us as we prepare, although we use it as a start point, because of the slightly different environment.

A really useful resource.
good
excellent
Extras