Christianity Explored DVD
One life. What's it all about?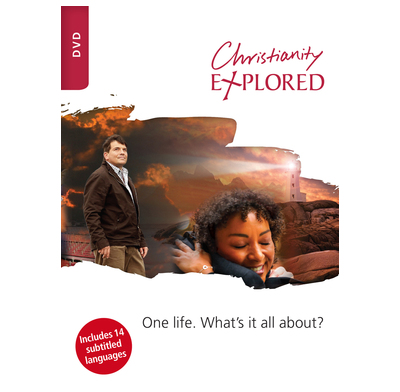 Share:
Brand new DVD - now with 14 subtitled languages including Chinese, Spanish and Arabic
Description
Please note, this DVD is available in NTSC format only. See below for more details.
The Christianity Explored DVD has already won awards for its superb production values and warm, engaging presentation of the gospel.
It now features 14 subtitled languages on the same disc making it more accessible than ever and superb value. Ideal for using with an English-speaking group where one member would benefit from viewing subtitles in their mother tongue.
Languages include:
Simplified Chinese, Spanish, French, Korean, Russian, Japanese, Portuguese, Arabic, Farsi, German, Polish, Dutch, Italian, Romanian and English for hard of hearing.
Please note, this DVD is available in NTSC format only. The vast majority of modern DVD players can read this format but older machines may not be able to. PAL discs are available but they only contain English subtitles for the hard of hearing.
Why only NTSC format?
Subtitles that have been produced for NTSC format need to be totally re-timed to make them work in the PAL format. This process would have cost many thousands of pounds for so many languages. Given the fact that the vast majority of DVD players in traditionally PAL regions can now read NTSC without problem, we considered this extra expense to be an unwise use of gospel resources.
If you find that your DVD player will not play this DVD, you may wish to consider updating your DVD player (which will cost around £30), or we can provide you with a PAL DVD which only contains subtitles for the hard of hearing.
Table of contents
1. Good news
2. Identity
3. Sin
4. The Cross
5. Resurrection
6. Grace
Day Away part 1: The Sower
Day Away part 2: James and John
Day Away part 3: Herod
7. Come and Die
Additional Information
| | |
| --- | --- |
| Author | Christianity Explored |
| ISBN | 9781908762733 |
| Format | DVD video |
| Dimensions | 138mm x 187mm |
| Publisher | The Good Book Company/CE |
Customer Reviews
Clear and Helpful
(Review written for 'Christianity Explored Episodes (SD)')
In order to provide a stimulus for evangelism as well as reminding people of the basics of the faith; we've just done CE with our entire church. The feedback has been overwhelmingly positive, with a different format (DVD) being helpful. The quality of the production (of the DVD as well as handbooks) is fantastic.

The material is clear on the gospel, and helpful in allowing people to see commonly held misunderstandings. From what I remember of previous versions, the updated DVD is great. In our context (South African), I feel that we don't always follow what is still mostly aimed at an English or British audience, and so some folks haven't connected as much with the material - but it's still been immensely helpful to many.
And so we're planning to run CE twice next year in the hope that regulars are confident enough in the material to suggest it to unbelieving friends and family.

Thank you
FANTASTIC
(Review written for 'Christianity Explored Episodes (HD)')
Christianity Explored is the best tool we have ever used for reaching guys at Joe Gibbs Racing with a clear view of the gospel!!!

Thanks Rico and team
Excellent resource
This DVD works well alongside the 'Prison Edition' of the Christianity Explored course. Rico has a great way to win the interest and hearts of it's hearers. Guy's respond very well to Rico and the way he teaches Mark's gospel. Highly recommended!
excellent resource
Christianity explored DVD.
This is one of the better produced and informative introduction DVD'S on the market.
The content is so informative yet challenging. The way the format is broken down into very manageable sub units that can be viewed individually or in total is a great benefit.
The very professionally produced product is a blessing to all.
Thank you.

Gus Shaw
Grace Church
Denbigh
Amazingly Versatile
(Review written for 'Christianity Explored Episodes (SD)')
I have purchased almost all of the Christianity Explored materials over the past 6 months, but buying the Christianity Explored Episodes (SD) was perhaps the best investment of all. It contains all of the video clips from the DVD, but with versatility that is unlimited. If you want to work through all the lessons of Christianity Explored one-on-one then simply sync it to your iPhone. If you want to teach a class, simply use it with AirPlay and AppleTV. If one lesson has made a significant impact on somone, they can download and play it whever they desire. The production quality is the same, the content is identical and moving from HD to SD makes little difference. In short, making these lessons avaliable individually was a master stroke that provides maximum utilility for this outstanding material.
Traditional Chinese would be better
This version of Christianity Explored DVD includes Chinse caption. It's a great news for those whose native language is Chinese. But the simplied Chinese are slightly difficult to read for those who only read traditional Chinese. I hope the next version, the traditional Chinese can be included since the cost of adding it is minimal, compared to its benefit.

Stacey
EXCELLENT
I have been using this DVD to help people, including myself, to catch up on any session they miss in the course we are running at my church. We have found the course an excellent way of either introducing people to the christian faith or as a refresher of the essentials of the faith for church members. On the recent course we have been running we have had a mix of both groups attending and all have found this DVD very entertaining,professionally presented but at the same time making the claims of Christ's identity and mission very clear.
very helpful
Thank you very much for this production! I was really moved when watching the videos. I think it will help many a not-yet-christian to get to know Jesus Christ.
Spanish materials needed
I was very impressed with the Christianity Explored videos. The illustrations were especially good giving a clear understanding of the passage. I was disappointed that the dvd did not have Spanish subtitles although student handbooks are available in Spanish. Also, the Soul dvd has Spanish subtitles but there is no handbook in Spanish.
Visually stunning, clear, and convicting
This is a much needed update of the original Christianity Explored videos. It has a wider range of locations, stunning cinematography, and many improvements to the presentation. The new 7 week format is much improved, especially the talk on Grace now being based on The Rich Young Man from Mark. I think the range of locations and scenes will appeal to a wide audience too. Rico's crystal clear explanation of the gospel is better than ever, with the talk on Herod especially convicting.

If I had one criticism it is that there is no clear explanation at the end of the final talk about how to become a Christian, not even a prayer of commitment to pray. This also seems to be missing from the leaders/participant's guides too! For this reason I will be using the CE Mark's Gospels which have a clear explanation and prayer at the end.
Extras