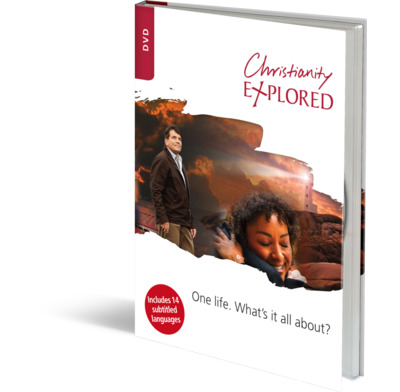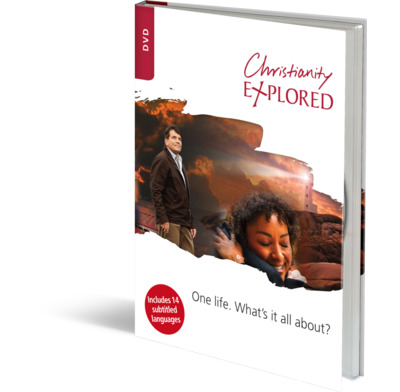 Christianity Explored DVD
One life. What's it all about?
The course DVD features 14 subtitled languages including Chinese, Spanish and Arabic
Watch the participants' and leaders' trailer
The Christianity Explored DVD has already won awards for its superb production values and warm, engaging presentation of the gospel.
It now features 14 subtitled languages on the same disc making it more accessible than ever and superb value. Ideal for using with an English-speaking group where one member would benefit from viewing subtitles in their mother tongue.
Languages include:
Simplified Chinese, Spanish, French, Korean, Russian, Japanese, Portuguese, Arabic, Farsi, German, Polish, Dutch, Italian, Romanian and English for hard of hearing.
Please note, this DVD is available in NTSC format only. The vast majority of modern DVD players can read this format but older machines may not be able to. PAL discs are available but they only contain English subtitles for the hard of hearing.
Why only NTSC format?
Subtitles that have been produced for NTSC format need to be totally re-timed to make them work in the PAL format. This process would have cost many thousands of pounds for so many languages. Given the fact that the vast majority of DVD players in traditionally PAL regions can now read NTSC without problem, we considered this extra expense to be an unwise use of gospel resources.
If you find that your DVD player will not play this DVD, you may wish to consider updating your DVD player (which will cost around £30).
Contents
1. Good news [11:13]
2. Identity [17:49]
3. Sin [13:47]
4. The Cross [17:22]
5. Resurrection [13:37]
6. Grace [16:58]
Day Away part 1: The Sower [13:26]
Day Away part 2: James and John [10:45]
Day Away part 3: Herod [13:29]
7. Come and Die [13:48]
Extras
Specification
| | |
| --- | --- |
| Author | Christianity Explored |
| ISBN | 9781908762733 |
| Format | DVD video (Digipack) |
| Dimensions | 138mm x 187mm |
| Publisher | The Good Book Company/CE |

"Great Resource"
Bought as part of Prison Edition pack. Used in UK prison. Some prejudice from prisoners against perceived "Posh" people. Material well presented and clear. Handbook very useful and should be sufficiently flexible to run it according to the needs of the group that signs up. Would also be useful in other settings where a simpler approach may be beneficial.

"Excellent resource"
(Review written for 'Christianity Explored Episodes (HD)')
I have used Christianity Explored for a number of years and every time it brings something fresh and effective to the guests who come along. The presentations, alongside reading Mark's gospel, opens up questions and conversations that matter and enables people to encounter Jesus.

Superb talks given in imaginative and creative settings the provide you with a powerful tool for presenting the gospel today.

"A great tool."
We have been using the CE DVD as part of a small group course. The material is excellent for opening up discussion, provoking thought and getting over the basic gospel message. The quality is excellent too, sound and picture, it is a great tool for use in the Christianity Explored course.

"Disappointed"
I believe that Christianity Explored is a generally excellent resource, and IMHO more faithful to the gospel message (especially in its presentation of sin) than is Alpha. Which is why I was so much looking forward to the revised version. I was particularly attracted by the promise of a shorter overall format.
Unhappily though, the presentation was not a patch on the original format which cleverly located each individual session in a new location appropriate to the subject matter. Both the location, AND the parallels drawn from it, helped carry the message of the original version in a very compelling way. The revised version is set in the same location throughout (presumably for time and cost savings). But frankly this just gets infinitely boring - in part because the setting itself is boring, but in even larger part because there is no visual carrier for the message. It is such a shame, because the original was so excellent in this respect.

"helpful in Japan"
We are beginning to use these short videos in evangelistic Bible studies in our church in Japan. The class members range from teenagers to retired people. Although there is a lot to take in when one must quickly read the subtitles, we find that our Japanese class members are following along with interest.
We're pleased with the way this series gives a solid overview of Mark's gospel and helps us to explain the gospel to people who often have very little knowledge of Christianity. The presentation makes it very clear that Christianity is relevant to well-educated people living in a fast-paced technologically-advanced country. It also makes it clear that our source of truth is the Bible and that it is imperative that we understand who Jesus is and what He has done for us. The presentations introduce important doctrines succinctly and leave time for discussion afterwards.
We hope this series will whet the appetites of newcomers who have not read the Bible before. We are also hoping that the Christians who watch these films will be strengthened in their own faith and also be helped in their understanding of how to share the gospel.
These videos are well done and the presentation is engaging. They present a clear challege to the mind and the heart--and not by sentimental manipulation. I think most people could feel comfortable inviting a friend to watch these films.
I wonder if it is possible for us to get a Japanese transcription of the subtitles? I try to familiarize myself with the Japanese before each lesson to facilitate good discussion. Working through the subtitles is extremely time-consuming as I have to keep pausing the video to look up words. It would be easier if I had the text on paper.

"a good buy"
Arrived in good time. Impressed with the quality of the filming and content.using as a post Alpha 'top up', good to be focusing one one gospel.

"Well presented with nice video quality"
These DVDs present a clear step by step explanation of the gospel from the book of Mark. They can be used as a standalone or with the Christianity Explored Handbooks as part of the Christianity Explored Course. The course is easy to run and with some preparation you will be able to help others who are not yet Christians to hear the challenge of Christ's message for themselves.
"Clear and Helpful"
(Review written for 'Christianity Explored Episodes (SD)')
In order to provide a stimulus for evangelism as well as reminding people of the basics of the faith; we've just done CE with our entire church. The feedback has been overwhelmingly positive, with a different format (DVD) being helpful. The quality of the production (of the DVD as well as handbooks) is fantastic.

The material is clear on the gospel, and helpful in allowing people to see commonly held misunderstandings. From what I remember of previous versions, the updated DVD is great. In our context (South African), I feel that we don't always follow what is still mostly aimed at an English or British audience, and so some folks haven't connected as much with the material - but it's still been immensely helpful to many.
And so we're planning to run CE twice next year in the hope that regulars are confident enough in the material to suggest it to unbelieving friends and family.

Thank you

"FANTASTIC"
(Review written for 'Christianity Explored Episodes (HD)')
Christianity Explored is the best tool we have ever used for reaching guys at Joe Gibbs Racing with a clear view of the gospel!!!

Thanks Rico and team

"Excellent resource"
This DVD works well alongside the 'Prison Edition' of the Christianity Explored course. Rico has a great way to win the interest and hearts of it's hearers. Guy's respond very well to Rico and the way he teaches Mark's gospel. Highly recommended!