A Praying Life
Connecting with God in a Distracting World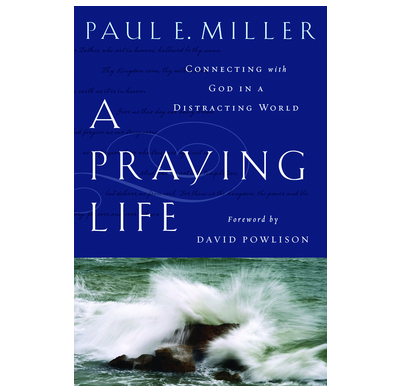 Share:
For those struggling to do life, who pray badly yet long to connect to with their heavenly Father.
Description
A Praying Life is an honest look at the difficulties of prayer, unanswered prayers, and successes in prayer. Readers will appreciate Paul Miller's down-to-earth approach and practical nature. Parents will find his family-life experiences especially helpful.
Table of contents
Introduction
1. "What Good Does it Do?"
2. Where We are Headed
Part One: Learning to Pray Like a Child
3. Become Like a Little Child
4. Learn to Talk with Your Father
5. Spending Time with Your Father
6. Learning to Be Helpless
7. Crying "Abba" — Continuously
8. Bending your Heart to your Father
Part Two: Learning to Trust Again
9. Understanding Cynicism
10. Following Jesus out of Cynicism
11. Developing an Eye for Jesus
Part Three: Learning to Ask Your Father
12. Why Asking is So Hard
13. Why We Can Ask
14. How Personal is God?
15. What Do We Do with Jesus' Extravagant Promises about Prayer?
16. What We Don't ask For: "Our Daily Bread"
17. What We Don't ask For: "Your Kingdom Come"
18. Surrender Completely: "Your Will Be Done"
Part Four: Living in Your Father's Story
19. Watching a Story Unfold
20. A Father's Love
21. Unanswered Prayer: Understanding the Patterns of Story
22. How God Places Himself in the Story
23. Praying Without a Story
24. Hope: The End of the Story
25. Living in Gospel Stories
Part Five: Praying in Real Life
26. Using Prayer Tools
27. Keeping Track of the Story: Using Prayer Cards
28. Prayer Work
29. Listening to God
30. Prayer Journaling: Become aware of the interior Journey
31. Real-life Praying
32. Unfinished Stories
Additional Information
| | |
| --- | --- |
| Author | Paul Miller |
| ISBN | 9781600063008 |
| Format | Paperback |
| Dimensions | 140mm x 210mm |
| Pages | 288 |
| Publisher | Navpress |
Customer Reviews
Immensely encouraging and practical
When my church first advertised this book I didn't buy it, as I thought I just needed to get on with praying (rather than read a book about praying). A year later I read this book, and would say it is the best book on prayer I have read - full of insight and Biblical wisdom. I found that the "reasons why we don't pray" were just what I was thinking, although perhaps I hadn't realised it. I was surprised to find three chapters on cynicism and prayer, but they were incredibly helpful - the book would not be as good without them. Paul Miller walks the reader through how he himself prays, how he has prayed over the years, and the answers he has seen. The second half of the book has practical ideas on praying regularly for different areas of our own lives and for the lives of others. It is an encouraging and very practical book. It was actually quite hard to put down, but is also a book I return to often.
A very helpful and interesting book
In his book 'The Praying Life' Paul Miller opens with the question asked by one of his children "What good does it do?" Probably most of us have asked the same question about prayer when faced with some of the difficult issues we face in life. Paul uses lessons he has learned from his family, which includes a daughter with autism, to help us to come to God as small children to a father and to face our doubt and cynicism. He puts prayer in the context of our life story and shows God working in the long term, maybe seeing answers many years after we first sought His help. Seeing prayer in this light helps us to realise that God has many lessons to teach us as we continue to wait and trust in Him. I found this book very readable and it opened my eyes to new ways of looking at the conundrum of prayer.