Is God anti-gay?
and other questions about homosexuality, the Bible and same-sex attraction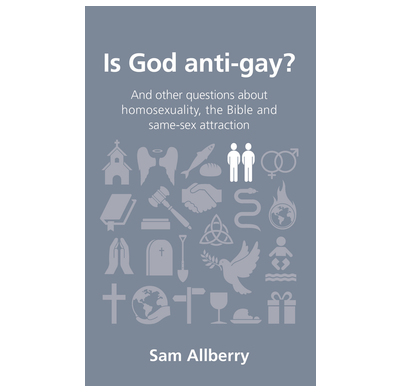 Share:
A practical and sensitive exploration of the Bible's teaching on homosexuality.
Description
It's the hot topic of the moment. Christians, the church and the Bible seem to be out of step with modern attitudes towards homosexuality. And there is growing hostility towards those who hold a different view to the culture's. So is God homophobic? And how do we relate to both Christians and non-Christians who experience same-sex attraction?
In this short, simple book, Sam Allberry wants to help confused Christians understand what God has said about these questions in the scriptures. Drawing on his own experience, he offers a positive and liberating way forward through the debate.
Download the full trailer.
Download the full interview.
Other information
A great series and an excellent resource. Important issues tackled thoughtfully, carefully, thoroughly and biblically. You couldn't ask for anything more. So don't. Buy these and use them well.
- Steve Timmis, Global Director, Acts 29
I can't figure out why we haven't had a book like this before, but it's just what we need. Allberry, a pastor in the UK who himself struggles with same-sex attraction, has written the perfect book to hand to skeptics and wobbly believers. The tone is irenic, the content firm, and the length manageable (less than 100 pages). Allberry covers the necessary texts and answers–in an intelligent, yet brief and winsome way–the most common questions and objections. I will be recommending this book often in the years ahead.
- Kevin DeYoung, Pastor, University Reformed Church, East Lansing MI
This an excellent book. It is real and sensitive, bold and biblical. It pulls no punches but is never strident or angular. Sam is clearly writing from the heart, and with a heart for Christ, his people and the world.
- Steve Timmis, Director Acts 29 Europe
EXCELLENT. Short, clear, kind, understanding... this needs to be widely distributed.
- Jonathan Leeman, Editorial Director at 9Marks, blogger and author.
The gospel is good news, for homosexuals too. The gospel doesn't define us by our temptations but by the righteousness of Christ. This book sets forth the biblical case. The author captures perfectly the gospel's call to repentance and offer of mercy. Read this book and consider how God is calling you to love, in word and in deed, all of those around you.
- Russell D. Moore, President, Ethics and Religious Liberty Commission, Southern Baptist Convention
Author, Tempted and Tried: Temptation and the Triumph of Christ
This short book is outstanding. Sam Allberry handles people carefully, texts wisely and issues sensitively, and the result is a supremely helpful book on perhaps the most challenging issue western Christians face today. I highly recommend it.
- Andrew Wilson, pastor and blogger at thinktheology.co.uk
Sam writes with genuine pastoral warmth out of his own personal experience. He argues convincingly that, far from being anti-gay, God loves those who experience same-sex attraction and that the gospel is good news for us too.
- Jonathan Berry, Director, True Freedom Trust
Every minister should read this book and we should endeavour to get it into the hands of as many of our congregation as possible.
- Paul Levy, Reformation 21 blog
Sam Allberry's book Is God Anti-Gay? is truly marvellous. Paul neglected to mention that Sam writes from the perspective of a pastor who himself struggles with same sex attraction. This makes the book more compassionate and compelling. Sam's humanity shines through every page; his understanding of weakness undergirds the whole; his compassion for those facing that which he himself faces each day is deeply moving. Those unconvinced by the simplistic pieties of reparative therapy and who are looking for something more biblical will find much helpful material here. This book would make an excellent resource for pastors and elders to keep on hand, given that this is an issue which is set to become more, not less, significant and contentious.
- Carl R. Trueman, Reformation21 blog
This is becoming the issue of our day. Short books like this that are biblical, grounded in the writer's personal experience and pastoral concern are a gift to all the church family, those struggling and those looking in. Sam Allberry meets objections and misunderstandings graciously, truthfully and persuasively.
- Rico Tice
Sam's story is one of God's goodness in the midst of same sex attraction, and is a powerful testimony for those needing encouragement in the face of this temptation.
- Doug Wilson, author and pastor of Christ Church, Moscow, Idaho
This is a very important book containing so much gospel wisdom.
- Al Mohler, President, Southern Baptist Seminary, Louisville, Kentucky
Table of contents
Introduction
1. Getting started: the Bible, marriage and sex
2. The Bible and homosexuality
3. Homosexuality and the Christian
4. Homosexuality and the church
5. Homosexuality and the world
Conclusion
Additional Information
| | |
| --- | --- |
| Author | Sam Allberry |
| ISBN | 9781908762313 |
| Format | Paperback |
| Dimensions | 110mm x 178mm |
| Pages | 96 |
| Publisher | The Good Book Company |
Customer Reviews
Excellent little book
I thought this was a very clear little book n the subject of marriage and self-same relationships. It was written by someone who struggles with same-sex attraction, but who is very clear that as a Christian he has to be a "eunuch for the Lord".
He is very clear that God made man and woman for marriage and very clear on that issue. He challenges us as a church to accept and love a "gay" person as much as we would anyone and that a gay couple should not be treated any differently from a couple who are "co-habit ting". Always love the sinner, but hate the sin. All should be made welcome and the gospel should always come first, allowing God to do the work of convicting and converting. A book for all, but also would give hope to someone struggling with these issues.
Clear, concise, compassionate
Thoroughly biblical, very well reasoned, most instructive - highly recommended.
worth reading
This book is clear, biblical and sensitive too those who are homosexual whilst upholding the biblical view that homosexual activity is a sin like murder or greed and I have given a copy to a grandma whose grandson came out and she was encouraged to keep on loving and praying for him.
Helped me to see the broader picture
I bought this book as someone who has been very troubled by the growing acceptance and even promotion of homosexual activity not only in general society but also within the church. Most importantly for me in this book the author examines each of the OT and NT passages dealing directly with this subject. He concludes that an unbiased reading of these scriptures indicates that homosexual activity is both unnatural and sinful. Sam Allberry's conclusions are all the more notable as he himself is a man subject to homosexual emotions. However he helpfully distinguishes between 'same sex attraction' (ssa) over which a person has no choice and a 'gay lifestyle' which is very much a matter of choice. Having established the biblical principles the author goes on to give much wise counsel not only for those struggling with ssa but also those seeking to offer support or who are indirectly affected by it. This is definitely the most balanced and instructive commentary I have read or heard on this subject and it has helped me personally to see the broader picture. I strongly recommend this book.
Excellent.
Thank you Sam Allberry for an excellent book. I ordered a number of copies for our PCC to read.
I appreciated the biblical depth; very good to see Mark 7 drawn out and the word 'porneiai' - immoralities, -highlighted.
Beyond this, I greatly valued the pastoral perspective, and setting same sex attraction in a wider framework: we are all polluted and in need of the cleansing, redemptive power of Jesus. Sam's honesty is refreshing. He acknowledges that all of us are involved in the fight of faith, and that Satan targets vulnerable areas of our lives, but that we have the word of God and the Holy Spirit to resist temptation. This is a key book to read in the light of Pilling, and contemporary debate within the Church of England.
Brief but good
This is a helpful book, easy to read and well though through. There are many practical suggestions to match the theological guidance. The book is intentionally short which does have many advantages but also means that some points and discussions are not developed as much as they might be. In all, a useful book for those beginning to engage with the issue but there is more to be said on the area and an expanded version would be useful.
Very Helpful
Every word in this book is worth paying attention to. Sam Allberry writes honestly and clearly on this very important subject. But most importantly, with love.
An excellent, relevant book for today
A helpfully written book on an issue that every Christian needs to be informed on.
Helpful and kind
There are three things about this book that have made it so helpful.
1) It is biblically faithful. It isn't shy about what the Bible says regarding human relationships.
2) It is pastorally kind. This isn't written to win an argument, but to help real people even as they struggle.
3) It is short. I bought this book to give to a struggling friend. It is helpfully short and to the point, which is exactly what my friend needed.
Brilliantly honest
I bought this book, 'Is God anti - gay' as I have read and heard quite a lot about Christianity and homosexuality in theory and was really pleased to see a book written by someone actually at the coal face, looking at these issues for real, not just as a debate.
It was a great read - clear, thoughtful, based on the Bible and most of all, so honest. It was a real privilege to read Sam's story, I am so pleased he shared it. He clearly pointed the way to following Jesus and the sacrifice that we all should make if we are to take Jesus and what he said seriously.
Being short and pithy means it should be accessible to as many as possible as we all get to grips with SSA and what It means for us all in the twenty-first century.
Extras