Is God anti-gay?
and other questions about homosexuality, the Bible and same-sex attraction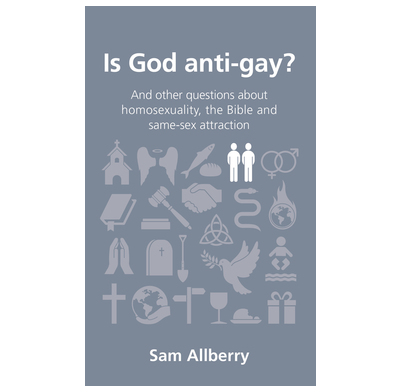 Share:
Practical and sensitive exploration of the Bible's teaching on homosexuality.
Description
It's the hot topic of the moment. Christians, the church and the Bible seem to be out of step with modern attitudes towards homosexuality. And there is growing hostility towards those who hold a different view. So is God homophobic? And what do we say, and how do we relate to to both Christians and non Christians who experience same-sex attraction.
In this short, simple book, Sam Allberry wants to help confused Christians understand what God has said about these questions in the scriptures, and offers a positive and liberating way forward through the debate.
Download the full trailer.
Download the full interview.
Other information
I can't figure out why we haven't had a book like this before, but it's just what we need. Allberry, a pastor in the UK who himself struggles with same-sex attraction, has written the perfect book to hand to skeptics and wobbly believers. The tone is irenic, the content firm, and the length manageable (less than 100 pages). Allberry covers the necessary texts and answers–in an intelligent, yet brief and winsome way–the most common questions and objections. I will be recommending this book often in the years ahead.
- Kevin DeYoung, Pastor, University Reformed Church, East Lansing MI
This an excellent book. It is real and sensitive, bold and biblical. It pulls no punches but is never strident or angular. Sam is clearly writing from the heart, and with a heart for Christ, his people and the world.
- Steve Timmis, Director Acts 29 Europe
EXCELLENT. Short, clear, kind, understanding... this needs to be widely distributed.
- Jonathan Leeman, Editorial Director at 9Marks, blogger and author.
The gospel is good news, for homosexuals too. The gospel doesn't define us by our temptations but by the righteousness of Christ. This book sets forth the biblical case. The author captures perfectly the gospel's call to repentance and offer of mercy. Read this book and consider how God is calling you to love, in word and in deed, all of those around you.
- Russell D. Moore, President, Ethics and Religious Liberty Commission, Southern Baptist Convention
Author, Tempted and Tried: Temptation and the Triumph of Christ
This short book is outstanding. Sam Allberry handles people carefully, texts wisely and issues sensitively, and the result is a supremely helpful book on perhaps the most challenging issue western Christians face today. I highly recommend it.
- Andrew Wilson, pastor and blogger at thinktheology.co.uk
Sam writes with genuine pastoral warmth out of his own personal experience. He argues convincingly that, far from being anti-gay, God loves those who exp
Table of contents
Introduction
1. Getting started: the Bible, marriage and sex
2. The Bible and homosexuality
3. Homosexuality and the Christian
4. Homosexuality and the church
5. Homosexuality and the world
Conclusion
Additional Information
| | |
| --- | --- |
| Author | Sam Allberry |
| ISBN | 9781908762313 |
| Format | Paperback |
| Dimensions | 110mm x 178mm |
| Pages | 88 |
| Publisher | The Good Book Company |
Customer Reviews
An excellent, relevant book for today
A helpfully written book on an issue that every Christian needs to be informed on.
Helpful and kind
There are three things about this book that have made it so helpful.
1) It is biblically faithful. It isn't shy about what the Bible says regarding human relationships.
2) It is pastorally kind. This isn't written to win an argument, but to help real people even as they struggle.
3) It is short. I bought this book to give to a struggling friend. It is helpfully short and to the point, which is exactly what my friend needed.
Brilliantly honest
I bought this book, 'Is God anti - gay' as I have read and heard quite a lot about Christianity and homosexuality in theory and was really pleased to see a book written by someone actually at the coal face, looking at these issues for real, not just as a debate.
It was a great read - clear, thoughtful, based on the Bible and most of all, so honest. It was a real privilege to read Sam's story, I am so pleased he shared it. He clearly pointed the way to following Jesus and the sacrifice that we all should make if we are to take Jesus and what he said seriously.
Being short and pithy means it should be accessible to as many as possible as we all get to grips with SSA and what It means for us all in the twenty-first century.
Outstanding
(Review written for 'Is God anti-gay? (ebook)')
Sam Allberry's book, Is God Anti-Gay?, is truly superb. Sam writes from the perspective of a pastor who himself struggles with same-sex attraction. The book is written intelligently, with compassion and is a compelling read. He deals with this subject thoroughly and remains faithful to the teaching of scriptures whilst writing in an easy to understand and accessible way for anyone and everyone. This book would make an excellent resource for pastors and elders. What courage Sam....a brilliant job.
Excellent resource
It is obvious that there is no better author for this book. It is so positive and conclusive, as to the biblical Christian gay message, and left me with great love for those who struggle.
Excellent, balanced, Biblical and compassionate.
(Review written for 'Is God anti-gay? (ebook)')
Excellent book. Handles the Biblical material well and shows the fallacy of some of ways in which the proponents of the active homosexual practise at best misunderstand the scripture and at worst misuse it. Above all a sensitive treatment that is an example to us all of not giving offence.
A must read
(Review written for 'Is God anti-gay? (ebook)')
I read this in preparation for a seminar on homosexuality I co-led this summer on camp, and would highly, highly recommend it. It's short, clear and very compassionate - a must read for Christians thinking this issue through and wondering how to stand on Christ's Word as well as love those struggling with Christ's heart.
Highly Recommended
(Review written for 'Is God anti-gay? (ebook)')
I would highly recommend this book. It is written by a pastor who experiences same sex attraction and l think that gives it is perspective and empathy which goes beyond just laying out the biblical arguments.

This issue is put in a wider context which was helpful and it is rooted in biblical truth. It isn't a very long book and well worth reading if, like me, you would like to explore what the bible says about same sex relationships and what the Christian response should be.
Very helpful
This book is written by someone who experiences same sex attraction so is not a purely theoretical treatise. Nor it is judgemental. It clearly and faithfully sets out the Bible's teaching on homosexuality and looks at how people can apply that teaching in their lives today, whether or not this is a personal issue for them.
Extras