Discover - sample issue
Bible notes for young people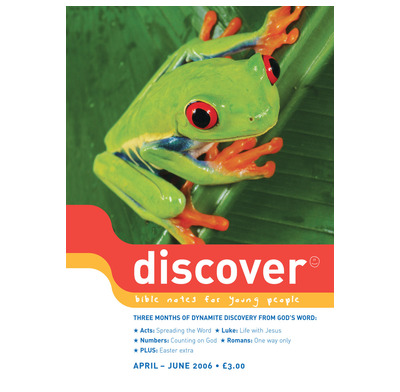 Share:
A sample back-issue of Discover for evaluation purposes.
Description
Reading the Bible on a daily basis is quite a challenge. Many young people are instantly put off by the Bible's confusing structure, or it's ancient language, or because they can see no relevance in it for today's world. Some of the books in the Bible are historical, some are poetic, some are prophetic, some take the form of letters. The big question is - how does it all fit together?
Discover is a quarterly publication aimed at young people, specifically the 10-13 age group. It encourages a daily routine of Bible study and prayer, which hopefully sets a pattern for the rest of their lives. Editor Martin Cole realises the need of young people to find relevance for today in this ancient book and sets out to do so. Discover takes what are sometimes very complex Biblical truths and explains them clearly and simply for the younger Christian.
The Bible is not a novel, neither is it a straightforward history book. Why are there two Testaments? What are all those laws about? Who exactly was Jesus? How is he connected with Moses and all those others guys? Why did he have to die? What does all that weird stuff in Revelation mean...? Discover aims to answer these questions and more.
Additional Information
| | |
| --- | --- |
| Age range: | 11 - 13 |
| Author | Martin Cole |
| Format | Saddle stitch |
| Dimensions | 148mm x 210mm |
| Pages | 92 |
| Publisher | The Good Book Company |
Customer Reviews
Great!
I like the fact that the daily readings have the day and date - a good encouragement to keep up! The puzzles seem good for my 11 year old daughter. I like it!
Great fun for our mum/daughter time :--)
(Review written for 'Discover - 1 year subscription')
I'm doing Discover with my daughter: younger than 11, and we have a great time with it. It's fun, helps her engage with God's word, and prompts us both to treasure Jesus more. I especially like how the activities are focussed in God's word and don't distract her from it. We look forward to our girlie time before bed every day! Super resource thank you.
Best on market
(Review written for 'Discover - 1 year subscription')
Excellent Bible notes. Each day's Bible passage is split into smaller chunks which help to keep the focus and puzzles are not too complex so as to detract from the Bible passage.
However I do agree with the previous reviewer who asks if the question of whether the young person is saved or not does come rather frequently and I agree, it can produce an "immunity". Other than that, an excellent resource - thanks.
Great and understandable
(Review written for 'Discover - 1 year subscription')
This is amazing and very understandable as I am new recommend to everyteenager 10-17
Great fun but a few reservations
(Review written for 'Discover - 1 year subscription')
Having always read children's cartoon-based Bible notes with my boys, I was looking for something different for them now they are 12 and 13. They rejected the 'trendy teenager' style that a lot of Bible notes for this age-group adopt, and I was relieved to find that Discover is interesting and entertaining without attempting to be particularly fashionable. The puzzles, codes, cartoons and, above all, the little touches of humour, all encourage my boys to study the Bible with me or with my husband.

However, there is a relentless emphasis on asking the readers if they are sure they are saved, which strikes me as counter-productive - my boys now try to read over that section and say 'yeah, yeah, blah, blah' as if they have become immune to the question through over-repetition. Don't get me wrong - I know they need to be asked this question. In fact one is saved, the other has yet to make a choice, so their answers would be different. But I feel these Bible notes ask so often that readers feel they can ignore the challenge.

There are also one or two issues of difficult theology (why the Israelites had to kill the existing tribes as they advanced, in particular) that are presented in an over-simplified way. There is no harm in telling childen and young people: 'This is harsh to read and hard to understand. One possible reason for it is...'.

Therefore, BECAUSE our boys are reading these notes with adult supervision and encouragement, I find Discover to be a useful tool. I would be less happy with the boys reading them on their own, as I think they would be negatively influenced by the repetitive pressure on making a choice for Jesus, and might either blindly accept or thoughtlessly reject the simplistic explanations of complex theological ideas.

Overall, the notes are great fun - full marks to those who provide the humour and the puzzles, but I would urge the writers who provide the theological content to prayerfully consider an appropriate number of challenges to come to Jesus (less may be more, I think...) and the ways that children of this age are quite capable of questioning and then rejecting an over-simplified point.
Keeps the children interested
I switched to this for my children's Bible reading notes because the previous one used to prescribe long passages that were more demanding. 'Discover' has very manageable passages for my 11- and 13-year olds, and the little activities keep my children interested and I hope will bring them closer to hearing from God.
Terrific
This is, by far, the best thing we have found for our daily Bible time with our kids. Insightful and written in a way that really keeps the attention. We have also purchased a subscription for our friends who have recently accepted Christ. Great stuff, keep it coming.