One Life Under God (Deuteronomy)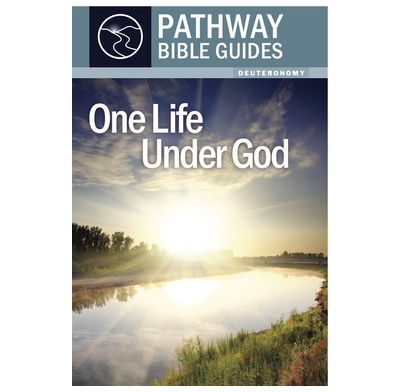 Share:
Be guided through the important book of Deuteronomy, discovering rich and practical truths about God and how we serve him.
Description
Deuteronomy is possibly the longest sermon ever given, preached by Moses as Israel is about to enter the Promised Land. As Moses exhorts Israel to live faithfully, we discover rich and practical insights about what the God we serve is like, what it means to live his way, the nature of worship, and God's view on leadership.
Most importantly, Paul Barker points us to the difference that Jesus has made, enabling Christians to respond to God more faithfully than Israel did.
Other information
About Pathway Bible Guides
Pathway Bible Guides aim to provide simple, straightforward Bible study material for:

Christians who are new to studying the Bible (perhaps because they've been recently converted or because they have joined a Bible study group for the first time);
Christians with lower literacy levels who find other studies (such as the Good Book Guides or Interactive Bible Studies) too much of a stretch.
Accordingly, the studies are designed to be short, straightforward and easy to use, with an uncomplicated vocabulary. At the same time, the writers have tried to do justice to the passages being studied and to model good Bible-reading principles. They have tried to be simple without being simplistic; no-nonsense without being no-content.
The questions and answers assume a small group context but can easily be adapted to suit different situations, such as individual study and one to one.
Table of contents
Before you begin
1. Trusting the faithful and powerful God (Deuteronomy 1:1-3:11)
2. Loving the one God alone (Deuteronomy 4-6)
3. Do not forget the Lord (Deuteronomy 8-10)
4. Worshipping God his way (Deuteronomy 12-13)
5. Special times and years (Deuteronomy 15:1-16:17)
6. Leaders of God's people (Deuteronomy 16:18-18:22)
7. Blessings and curses (Deuteronomy 27-28)
8. A change of heart (Deuteronomy 29-30)
For the leader
Additional Information
| | |
| --- | --- |
| Author | Paul Barker |
| ISBN | 9781921896323 |
| Format | Saddle stitch |
| Dimensions | 145mm x 214mm |
| Pages | 94 |
| No. of studies | 8 |
| Publisher | Matthias Media |