Dust to Destiny: Reading Romans Today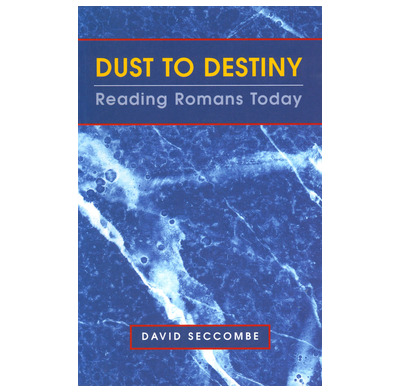 Share:
Readable, practical and accessible commentary on the book of Romans.
Description
The Reading the Bible today series of non-technical commentaries is devoted to presenting careful scholarship in a way that everyone can understand and enjoy. The letter to the Romans provides one of the New Testament's most comprehensive theological statements. Dr David Seccombe explains its complex truths clearly and powerfully. He brings the apostle Paul's words to life for modern readers.
" David Seccombe writes on this letter, Paul's magnum opus, with great passion. Here is a dynamic and gripping work which will shake us all up! "
- Dr Paul Barnett, Series Editor
Dr David Seccombe is both a scholar and a pastor. He holds a PhD in New Testament Studies from Cambridge University, and is currently Principal of George Whitefield College in Cape Town, South Africa. His research has given him the opportunity to explore the message of the New Testament writers to the first century world.
As a pastor he has discovered the many-sided relevance of that message to today's men, women and children. David Seccombe served as preacher for 14 years to a vibrant church of students and families (St Matthew's Church, Shenton Park in Western Australia), and continues to be involved in evangelism and caring for growing Christians.
Table of contents
Foreword
Preface
1. Paul to the Romans
2. An Ambassador presents his credentials
3. The best made plans
4. The power of God
5. God is angry
6. The day of judgement
7. Hypocrisy and truth
8. Universal depravity
9. History's greatest milestone
10. Pride
11. Faith
12. Reconciliation
13. More on pride
14. A brief history of life and death
15. Set free to fight
16. You gotta serve somebody
17. Beyond the law
18. Cry of the Christian
19. Journey to the stars
20. All things work for good
21. God is for us
22. Predestination and history
23. Responsibility
24. Israel's ultimate destiny
25. Beautiful people
26. Citizens of a fallen world
27. Putting on Christ
28. Accepting one another
29. Master missionary
30. A Who's Who of the church of Rome
31. Beware the twisters
Additional Information
| | |
| --- | --- |
| Author | David Seccombe |
| ISBN | 9781875861224 |
| Format | Paperback |
| Dimensions | 138mm x 215mm |
| Pages | 278 |
| Publisher | Aquila Press |